The Waterboys
Universal Hall, Findhorn, Scotland
, January 2002
"I know some of you have come hundreds of miles for tonight's show. And I know many of you have come hundreds of yards as well," introduces Mike Scott of the Waterboys on the second night of two charity shows in aid of the Steinway piano here at Universal Hall in Findhorn, Scotland. This statement is certainly an accurate summation of their audience considering some of the band's fans have travelled from as far away as Italy and Poland, while a good percentage of those present live in the small spiritual community that surrounds the venue.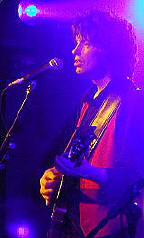 Mike himself has lived, written many songs, and recorded an album here at Findhorn, so these two concerts represent homecoming shows for him. The sell out crowd tonight consists of about 450 fans, friends and family members. Anyone who would say that such a concert makes for an easy gig for the musicians involved would be missing the point. Having band-friendly fans can easily translate into a fan-friendly concert. Also, the welcoming atmosphere and lack of an audience barrier to overcome allows the true abilities and musicianship of a band to shine through immediately.

With the audience entirely open to their music from the first song, Mike taps a beat of four and the Waterboys launch into 'Open' from his second solo album. Like water lapping against the rolling pebbles of a beach, the gentle rhythm of Mike's acoustic guitar strumming instantly meshes with keyboardist Richard Naiff's subtly expressive finger work as he plays on the 'charity case' Steinway. Meanwhile Steve Wickham's fiddle playing gusts and swirls over this backdrop like the fresh breezes that announce the arrival of spring. With the words clearly audible, this song proves that simplicity of lyrics can easily convey profound and moving statements.

The instant connection with the audience for these three talented musicians continues unabated throughout the show. Great empathy, tolerance and respect for the humour of the situation is shown by the crowd when the magical introduction to 'When Ye Go Away' is twice flubbed by the popping of a faulty guitar jack. When finally performed in its entirety, this plaintive and emotional song draws in the listener like memories of a lost loved one until Steve's suddenly playful fiddle playing helps to ease the sense of sorrow.

Exuding pure passion, sensuality and fire, 'The Pan Within' is an absolute powerhouse of a song even with this acoustic set up. Just the third song played tonight, it's already obvious that something very special is happening on the Waterboys front that hasn't happened for over a decade. Mike Scott has always been the band's mono-nucleus, its hydrogen atom of sorts but for one previous occasion. Back in the 1980's the additions of Anthony Thistlethwaite and Steve Wickham provided a powerful enough chemistry with Mike that the band's nucleus became a threesome. With or without the Waterboys' moniker and with or without a band in tow, Mike Scott essentially became a solo act during the 1990's. With the return of Steve to the band and the addition of the phenomenally talented, classically trained keyboardist Richard Naiff, the core of the band is once again more than just Mr. Scott.

Playing intuitively together these musicians turn 'She Is So Beautiful' into a fragile, soothing song of love and hope. The fiddle-lead 'Strange Boat' becomes a comforting lullaby, while 'Stopping By Woods On a Snowy Evening' showcases Steve's talents at translating the literary landscapes of a famous poem into music. A new song temporarily titled 'Universal Hall' is aired, while 'Long Way to the Light' settles itself in like a prodigal son by the fireplace after returning home. Twenty-two songs of movement and magic are played tonight ending with the fond farewell of 'Saints and Angels'. This is as close to perfection as any concert that I've ever attended.

Mike makes a change in the lyrics of the last song: "While we sail the ship that never goes to sea - friendship." May friends play together and stay together.

When Mike first walked onstage tonight, he was carrying a candle whose flame extinguished as he arrived. He handed it to an assistant who left to re-light it. Strongly symbolic, this candle seemed to pass on its subtle power and brilliance to the band as it went out because this new version of the Waterboys is shining brightly with newly generated light and energy.

May this three-way nucleus of Scott, Wickham and Naiff continue to glow for many more shows well into the future.
Barbara Lindberg

Check out a review of the Waterboy's album 'A Rock in the Weary Land'


Check out out the setlist from the Waterboys' Dublin gig back in 1987.