T In The Park 2003
Sunday July 13th, 2003 (Day 2)
More sunshine, the disappointment of the White Stripes cancellation truly exorcised by the Flaming Lips and another hangover is the order of the day as we make our way back to the NME stage.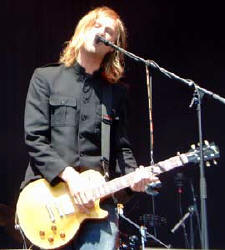 Manchester-based newcomers Longview start the day's proceedings and are thus far, an undiscovered gem. With an expansive guitar sound and flowing vocals, they are surely destined for bigger and better things, possibly the best thing to come from Manchester since Doves. Their debut album could be just as affecting as 'The Last Broadcast' and based on this performance is worth checking out.

In King Tut's Wah Wah Tent, Alfie are unfortunately forced to shorten their set thanks to technical difficulties, but they still managed to impress with an acoustic boyish charm similar to softer touches of the Charlatans. It's a shame their pure and effortless melodies were only afforded 20 minutes though.

Up next were the Grim Northern Social, but the over-elaborate rock star posturing of singer Ewan Mac Farlane overshadows the potential inventive leanings of his band. Frankly, it's instantly tiresome, so we wait for the Thrills to arrive.

King Tut's tent is packed with a crowd who know all the hype that the Thrills are carrying with them these days. Singer Conor Deasy has a commanding stage presence but it's possible that he sang with too much vigour that diminished the much-loved pop-charm of the songs. Nevertheless, the singles 'Big Sur, Santa Cruz' and 'One Horse Town' are irresistible.

Meanwhile on the Main Stage, the Sugababes prove that unlike a lot of boy/girl bands, they actually can sing. Not that it matters much. Appleton appear next with exposed breasts printed on their t-shirts. Oh how naughty. Quite frankly, it's difficult to decide which is the bigger tit, the one on the t-shirt or the one wearing it.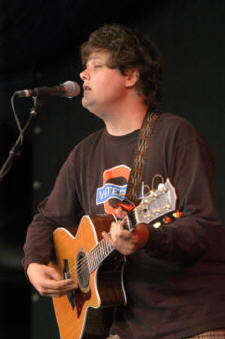 The X-tent provided the weekend with one of its finest moments with the understated genius of Ron Sexsmith. Without a backing band, this was the one occasion of the entire weekend where crafted acoustic guitar with the sweetest of voices proved to be truly definitive. 'Fallen' and a guitar version of piano ballad 'Gold In Them Hills' are 2 superb examples of his intimate song writing and their delivery was purely unique. The only sad thing was that the set was only half an hour long.

Following Ron, Ed Harcourt is unimpressive as he frenetically beats out his first couple of tunes without much class, so off we go.

The T-break stage is a ridiculous choice of venue for the Trash Can Sinatras for good reason; they've been around since 1990 and they're one of the best bands you've never heard, with a flowing sense of melody and a supreme ability to write complex, communicative songs. Sadly this gifted musicianship & Frank Reader's longing vocals were undermined by poor sound quality in the tiny tent, but 'The Safecracker' and 'How Can I Apply?' still mesmerised.

King Tut's is proving to be a popular choice today andTeenage Fanclub predictably packed the tent to capacity for their home fans. On the back of the'4766 Seconds' compilation released earlier this year, Fanclub a.k.a the Fannies played a setlist which was a glorious testament to this band's unrelenting talent. Songs such as 'Ain't That Enough, Sparky's Dream, Mellow Doubt, What You Do TO Me' and 'Disco Lites' meant that there was nowhere better to be. The new songs 'Did I Say, Empty Space' and 'World Will Be OK' also showed that this band deserve to be around for a long time yet. Well worthy of a Main Stage appearance.

Still in King Tut's, Lemon Jelly were a wonderful sight as well as sound with pop-art graphics and a gradual, but expansive collage of sounds prove to be a winner.

On the NME stage, Mike Skinner of The Streets makes a patriotic arrival carrying a Scottish flag and armed with plenty of Braveheart quips before ranting and raving about London and urban misdemeanours. Fine if you like that sort of thing.

With the weekend almost over, it's time to finish off at the Main Stage where the Charlatans are playing a blistering set packed with their best hits. 'Then, Love Is The Key' and 'Can't Get Out Of Bed' were played with utter passion before bowing out with the unforgettable 'How High'. It's a worthy farewell to Tim Burgess as he embarks on a solo tour for the next few months. This actually felt like a headline performance.

And so the stage is set for Coldplay, probably the most popular band in the world today. Their music really does come to life on stage and Chris Martin has an unstoppable stage presence. He apologised early on with typical self-depreciation in the set for not playing hits, but he clearly didn't need to. Radio friendly ballads such as 'Clocks' and 'Daylight' had immense live power. With 'Yellow' and 'God Put A Smile On Your Face', the crowd were never going to stop enjoying this. Poking fun at their Oasis friends, they performed a confusing but entertaining version of 'Songbird'. The true magic came in the encores with thousands of voices singing along to 'The Scientist' and a captivating performance of 'In My Place' to put the icing on the cake for T In The Park's tenth birthday.

T In The Park has grown into one of Europe's finest festivals, and while trying not to be too melodramatic, the weekend glowed not only with sunshine, but true spirit and warmth of the Scottish people.

Happy Birthday T In The Park.

Jimmy Murphy & Ollie O' Leary

Check out the CLUAS coverage of Day 1 of T in the Park 2003