Stefon Harris Quartet
A review of his concert in Vicar Street, 12 December 2002
One of the premier "Young Lions" of jazz made his Dublin debut tonight at Vicar Street, Dublin's evocative jazz setting and the city's finest small-scale music venue. Vibes player Stefon Harris is a redoubtable name back home in the US after making his recording premiere as a band leader in 1998 with A Cloud of Red Dust, a thunder-bolt-strong jazz debut. The vibraphonist-composer made even more friends with the follow up, last year's Black Action Figure. His sophomore release earned Harris a much deserved Grammy nomination, as well as a bevvy of critics' awards.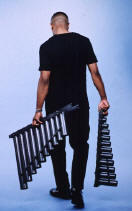 Harris led a formidable crew on stage: Xavier Davis (piano), Tarus Mateen (bass) and the prettiest percussionist this writer's ever eyes, Kim Thompson (drums) the quartet performed in Dublin the night before ending their Ireland sojourn at Cork Opera House the following evening.

Much of tonight's setlist is from Black Action Figure. "I never want to do the same thing twice," 28-year old Harris tells his listeners. And nowhere tonight is there repetition. Exploring uncharted pathways of composition and jazz performance, his inventive free-flowing style and masterful control of this malleted instrument show he wasn't mitching while taking his B.A. in classical music and a M.A. in jazz performance at the esteemed Manhattan School of Music.

The group approached this set on a definite theme of improvisation. Several times during his two hour show Harris started the group out playing a spontaneous solo before weaving and meld this into recognisable jazz standards. Some of the most memorable tunes played that night were the title track from Harris' "A Cloud of Red Dust" album. He also hits on Gershwin's "Summertime", and before moving onto pianist Xavier Davis' original composition, "Tall Strutin'. The night ends after each band member gets to show off their solo abilities, Kim Thompson doing very well as a last-minute stand in for Harris' regular drummer. Her introduction to the crowd prompted a chorus of wolf whistles before she took her sticks to the closing tune. If anything this was a good-humoured show, by a group of artists making it all look easy.

While his first album was marked by a pensive sensibility, the new CD is characterized by a more high-spirited feel, Harris told a group of jazz scribes after the show. "A Cloud of Red Dust was the documenting of my journey searching for philosophical tenets to bring peace to my life," Harris explained. "In conceiving Black Action Figure, I was experiencing a lot more optimism and joy. I was a lot more relaxed in my approach. Recording became all about capturing the moment. For the most part, all the songs were first takes in the studio. There are no corrections to the solos. That relaxed feeling made a big difference... On the first CD I was very philosophical. On this record you get the softer, funnier side of Stefon Harris."

Voted Best New Talent by Jazziz Magazine and Best jazz CD by Newsweek Magazine, Harris has been widely recognized by both his peers, appearing in quick succession on recent albums by Cassandra Wilson (Travelling Miles) and Steve Coleman (The Sonic Language of Myth). Irish jazz writer Ray Comiskey said it well when he commented the following day in the Irish Times "...working from a basis in structure, seemed willing to explore avenues that presented themselves and let the music take it down them. In its shifts in textures, time, contrast and dynamics the music had a sense of discovery about it and a constant feeling of surprise, and if it's discursiveness was sometimes at the expense of form, the results whenever it achieved a balance were superb."

Check out our other articles on theIrish Jazz Music Scene.