Roy Hargrove Quintet
A review of his concert in Vicar Street, 12 November 2002
The penultimate slot in this season's ESB jazz series goes to Roy Hargrove, a 32 year old trumpeter from Texas. Being called the "hottest trumpet player in the world" by Newsweek magazine last year certainly helped ticket sales on this European club circuit of his. Hargrove's progression owes much to the indulgence of established star Wynton Marsalis who heard Hargrove play at a Dallas performing arts school. Shortly afterwards a sixteen year old Hargrove was touring Europe with Marsalis peer and alto saxophonist, Frank Morgan.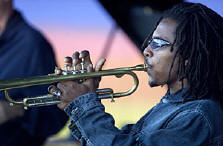 Leading a quintet made up of Justin Robertson (alto), Ronnie Mathews (piano), Dwayne Burno (bass) and Willie Jones (drums), Hargrove was quickly into an authoritative groove on the un-introduced opening tunes. The venue was creatively laid out, attentive candle-lit tables down front and richly illuminated stage backdrops accentuating the mood of Hargrove's playing. Sharp and attentive drums and bass keeping setting the parameters, Robinson showed himself off as a superior saxophonist. And then over it all Hargrove lays his lovely lines, the direction never predictable and the music's texture silky smooth.

A New Yorker since 1989, Hargrove signed to big-house RCA records there and made his debut as a leader on 'Diamond in the Rough', this writer's introduction to the artist. His third album 'The Vibe' sees Hargrove reach a peak worthy of the trust placed in him by Marsalis. In 1994 however a move from RCA to the Verve label saw Hargrove initiate the since-run experimental phase of his career. Wynton Marsalis joined his band, alongside a group of Afro-Cubans who helped Hargrove create 'Habana', a gorgeous record of Latin jazz.

Hargrove really produced the goods for a full-house Vicar Street when he opened up on his ballad numbers. 'They Say It's Wonderful' and 'When I Fall In Love', showed what his phrasing and gorgeous flugelhorn sound could do to a melody. His reputation for inspirational soloing is indeed justified.

The empathy that comes from near-constant touring with his quintet has settled Hargrove and appears to have brought the Texan to peaks of musicianship even at these early stages of his career. Collaborations with jazz legends like Herbie Hancock and his own individualistic reinterpretations of Miles Davis and John Coltrane works has made Hargrove confident in his abilities and thus allowed him to push new boundaries. His recent playing is apparently taking him in the direction of hip hop and a reinterpretation of electric jazz but there was little of such experimentation in his Dublin setlist, with solid standard techniques the mainstay of the night.

A great sense of rhythm and good hearing are Hargrove assets. Just like Marsalis said: "Roy sounds like he's from Texas, that certain type of bounce he plays with... he really can play a ballad. That's one of his great strengths, I think because his time is so good." His ballads sounded sweet to Dublin ears. And we had a good time too.

Check out our other articles on theIrish Jazz Music Scene.