The Oxegen 2004 Festival
Saturday, July 11th, 2004 (Day 2)
Bowie's absence hangs over Punchestown like a?well, a huge grey raincloud. Nonetheless Black Eyed Peas are doing their best to make up for it. 'Let's get it Started', 'Where is the Love' and 'Shut Up' make us forget everytime we pogo we're drowning ourselves in mud. And that we're enjoying the Black Eyed Peas. Just Shut Up, and don't tell anyone, ok?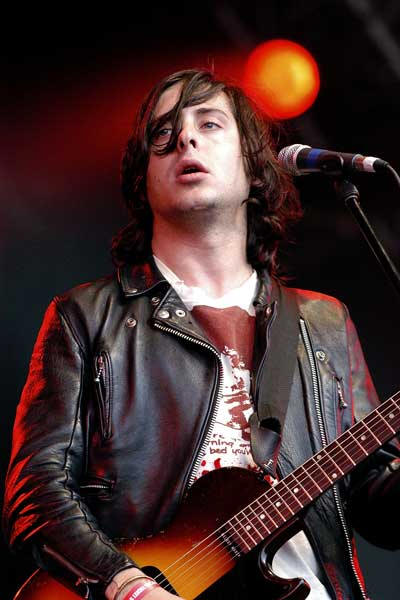 The day is low on highlights. One of which arrives in the form of Erin McKeown's tales from Americana. The singer/songwriter has a hell of a voice and plays guitar like a demon. At times her attempts at getting the crowd to participate fall on deaf ears, but she tries nonetheless.

Mylo try in the Dance Arena (also known as Charlie McCreevy's 14 million euro Equestrian Centre). They probably can't believe their luck as the rain drives thousands of people to them. The oversized horse shed still isn't worth 14 million though. Mylo at least provide us with inoffensive listener-friendly dance music, the kind that Royskopp won so many hearts, and dinner parties over with.

Of course dinner party music can be, and quite often is bland. Which leads us nicely to Keane. They're every bit as bog standard as you'd expect them to be. The aural equivalent of a nice warm fleece. Fluffy, but you wouldn't be seen dead near it. Strangely today, there are a few people who seem to be fond of that fleece.

The utter niceness of Kiwi singer Bic Runga ensures she's lost in the babble of the crowd. Whether it's her soundman or her voice, which isn't overly strong, it's almost impossible to hear her. Naturally, polite applause follows.

But what's that in the distance? Walking out of the Green Room tent, you notice a familiar tune wafting towards you like poisonous gas. It's been hidden away with the memories of Color Me Badd and Counting Crows from the barren days of the early 90s. But it's escaped. We're in trouble now.

Pink is excruciatingly belting out 'What's Going On' by Four Non Blondes. Lighters are in the air. People are swaying. Nobody needs this. It was shit ten years ago, it's still shit. Give it up, and your awful ballads while you're at it. And by the way, if you want a female role model in music, choose Polly Jean Harvey. Not this slickly produced idea of rebellion that's sold to the kids.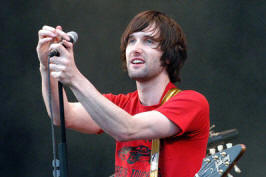 After that, anything must be better. But The Libertines just don't feel right without Pete Doherty (currently out of the band due to a heroin and crack addiction), despite the best efforts of Carl Barat. They still bang out their thrashy indie rock. But these cockneys are, excuse the pun, all about the chemistry. Pete and Carl. Damon and Graham. Chas and Dave.

Ash are a festival band if ever there was one. 'Oh Yeah', 'A Life Less Ordinary', 'Shining Light'. It aint rocket science, Tim Wheeler's voice is unexceptional, but they have brilliantly crafted songs and know how to get a crowd going. Give them a residency.

Next up in an indie rock dominated day (I'd love to have seen Felix Da Housecat and Basement Jaxx, but they were at the other side of the site) were Muse. They jump about a lot. They rawk. They're like a more serious Darkness. But there's something unloveable about them. They'll always be a band to stand back and admire (it'll more than likely be a guitar solo or a high note from Matt Bellamy that does it) rather than embrace. And so they seem like the unnaturally clever girl in school rather than the one you could ever like. Having said that, Plug In Baby, their finest moment is more adrenaline-filled than any of the vomit inducing rollercoasters in the 'fun' fair could ever be.

Reggae Pioneer Jimmy Cliff can do no wrong. And when he plays a call and respond version of 'The Harder They Come', the beaming crowd gladly play along. It's commendable to have acts like Cliff here, to give a respite from the overly guitar band reliant bill.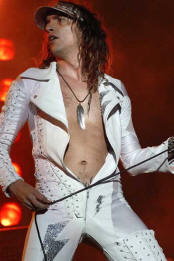 The Darkness are flogging their b-sides on the main stage and you wonder how do flavours of the day get to headline these events - hello Stereophonics and Travis. When a band gets such a slot so early in their career, it only highlights the lack of material they have behind them. Come back soon David Bowie.

But not until we worship at the altar of The Shins. This criminally under-acknowledged group are the catchiest guitar band in the world. They make Ash sound almost tuneless. Brilliantly melodic and in James Mercer they have a vocalist who can do anything. Except mend Bowie. Every song is infectious, and rapturously received, they're a perfect send-off. Or as perfect as you're going to get without Bowie.

Apart from Bowie and the weather, the only real gripe was the timetable, which MCD charged ten euro for. In previous years they advertised performance times on the festival website for free. However this year if you wanted to find out what time your favourite band was on, you'd have to splash out ten euro for the honour. Add to this the fact that these were sold out by 3 O'clock on Saturday and you had lots of unhappy campers. And that was before they even got back to their soaking tents.

Paddy McDonnell

Check out the CLUAS coverage of Day 1 of Oxegen 2004


Photos of The Darkness & Ash: Copyright 2004 Miss Lili


Photo of The Libertines: Copyright 2004 Sally O'Sullivan