Maximo Park
Dolan's Warehouse, Limerick, 22 January 2006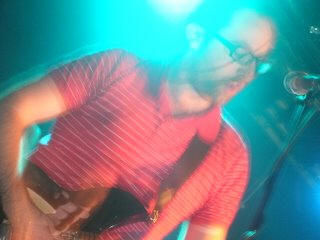 Review Snapshot:
2005 success story prepare for their headlining slot on this year's NME tour with a tiny gig sponsored by a massive beer company. The message: less music and more HEINEKEN! HEINEKEN! HEINEKEN! (and have some Maximo Park too.)

The CLUAS Verdict? 9 out of 10

Full review:
A photographer friend of mine, frustrated that on-stage energetics of many of the bands at last year's Oxegen festival were causing her photos to come out blurry snarled at the time, "you must have to jump a lot to be f*cking cool these days." But while Kaiser Chiefs bunny-hopped into the mainstream last year, Maximo Park scissor-kicked right across it, perhaps to their detriment. Arguably, their songs are smarter, more concise, more emotional, and damn it, BETTER than their Leeds counterparts. And while they may not be awarded with Brits nominations for their troubles, the smashing consolation prize of a slot on top of the NME Tour Bill is theirs for 2006.

This 'warm up gig' in the 350 capacity Dolan's Warehouse was to show the crowd that they're entitled to have Artic Monkeys supporting them, as would occur the following evening in a hysteria drenched Ambassador in Dublin.

'Graffitti' comes early, a tune that recalls scores of influences at once, realising singer Paul Smith's desire to squash four songs into one, so each time you hear it, something different surfaces. The lyrics "Nothing happens in my town" are roared back by the crowd, and the band begin to realise that they're welcome and able, and about to have a lot of fun.

The real Maximo Park is in their live show, where they play with an intensity that is unrivalled. It's not that Paul Smith is blatant about the emotions streaming alongside the sweat on his face, but he genuinely seems so, - ahem - "into it" that any attempts to be cool and hide the veracity of his on stage emotions - that appear with orgasmic intensity in his eyes and curling lips at the last bar of each song - are completely thwarted, lost to the power of whatever on earth he is feeling. It's an awesome spectacle, one almost feels as if one is intruding on an insanely personal climax.

'Postcards of a Painting' builds and builds to new songs "In a Fortnight's Time" and "Nosebleed" which, although not total belters, stand up against the older material. They do however sound relatively incomplete in comparison to 'Apply Some Pressure' - a truly giant slab of indie pop delivered with rage, power and love - a threesome Smith presents with impossible weight. The encore of 'Going Missing', a relative downer (if a perfect one) to the rushy fits that preceded it, unites the crowd in nothing but respect for a band that have given everything. And more.

Forget about the night they lost their heads, tonight, Maximo Park earned their stripes. Brilliant.

Artfully angular gig photo also furnished by the poly-gifted Una.