Glen Hansard & Mark Geary
An Grianan, Letterkenny, 29 January 2003
It was the first time I'd ever seen Mr Geary, I wasn't sure what to expect, but he was truly sublime. His crowd interaction was excellent and with him encouraging the crowd to participate in the singing of certain choruses here and there, he was immediately taken to the hearts of the often discerning Letterkenny music fans. It was very apparent to everyone that this guy was exceptionally talented, his self-penned songs, such as "Gingerman", "Volunteer", and "America" revealed a deep thinking and sensitive nature, but his little on-stage anecdotes, showed him to be very humble and untainted by his musical gifts.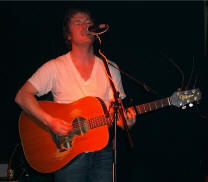 At one stage he explained that he was having an ongoing dare with Glen that every night they had to sing a song that they "just weren't sure about". So that he did, with the help of a young lady from the front row, I believe was called Christine, who held the lyrics for him, he sang a song that it transpired he had just penned in the dressing room. Truth be told, he performed it like he had played it a million times and his performance was as natural anything else in his dazzling repertoire. It was very impressive. He played for a little over an hour, and were it not that we all had come first and foremost to see Glen Hansard, the whole crowd could have listened to him all night.

Glen came on stage almost unannounced and immediately the packed out crowd fell silent, such was his presence. He sang 'Plateau', slow and gentle, it was listened to in perfect silence. From that gentle beginning, his setlist fluctuated from anthems like 'God Bless Mom', to a performance of 'Star-Star' on his knees, as the crowd sang the chorus back to him, in a semi-perfect harmony. It was by know well apparent that Glen was really up for this gig.

Legendary are the anecdotes of Glen Hansard, sometimes I feel that he must have lived ten lives, one moment he's in Chicago listening to birds sing, the next he's on a motorbike outside Bray, listening to the sound the helmet is making with the wind, and it appears that all these things have been thrown together into his tuneful mind to produce his masterpieces. One song after the next he explains that his songs are about a variety of universal emotions, from a child loving his mother, to loving a friend maybe a bit more than you should. You could see people nodding and smiling a familiar smile as if inside Glen was a little part of all of them. Perhaps that's his real genius, his universal appeal.

He played for two hours and received a standing ovation, came back for an encore and once again left the stage with the crowd reeling with excitement. As most of them poured out, he returned to pick up his coat and decided to do an impromptu few tunes for his die-hard fans that were still there, he began by playing 'Revelate', his signature tune, for them. From there he played on for another half an hour without any microphones or amps along with Mark Geary. When they did a cover of 'Debaser' by The Pixies it was like the icing on the cake of an already amazing night.
What a fitting way to end what must have been a memorable tour. Glen Hansard and Mark Geary, we salute you.
Mark Monaghan

Click here for a review of Glen Hansard live in Belfast the previous night.