Enon, The Bloodthirsty Lovers, The Waiting Room
Costello's, Limerick, March 14th 2003
The Aspersion Music Collective returned to their birthplace of Costello's tonight, and brought with them three acts who could easily reaffirm any doubters belief in the joys of the underground.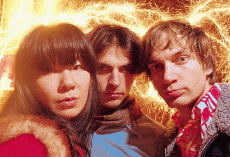 Cork's The Waiting Room opened proceedings, and those few punters who arrived early were in for a treat. A short opening instrumental, reminiscent of the Rednecks and the likes, didn't mark the Waiting Room out as anything entirely original or special. However, their next six tracks did. This three-piece really came into their own on the four tracks featuring vocals. Their frontman has a gentle, hushed voice, not a millions of miles away from Jonathan Donohue of Mercury Rev. Despite what seemed like on-stage shyness, The Waiting Room certainly produced a rather wonderful opener. If they can write more songs like their last two, which were both sublime (and - coincidentally - featured vocals), there could be very interesting times ahead for this outfit.
If one great support act can be a little overwhelming, the Aspersion Music Collective pulled out all the stops by adding The Bloodthirsty Lovers to the bill. The Lovers are from Memphis, and are led by songwriter David Shouse, who by all accounts is something of a musical maverick. No two songs in their set seemed to sound like each other. With gentle drumming, and an array of wonderful sounds coming from their keyboards, The Bloodthirsty Lovers launched into the instrumental "Datapunk". Lifted from their recently released eponymous debut LP, "Datapunk" was indeed a damn funky track! By utilising all different types of sounds, The Lovers created a rather remarkable set, where the audience couldn't predict what would happen next. Some tracks sounded like The Flaming Lips for instance, while one track even bore a resemblance to straight ahead rock n'roll in the vein of The Rolling Stones! With so much twists and genre-hopping, one might expect a mess of a show. However, it was nothing of the sort, with the audience surely appreciating the eclectic and somewhat enthralling sound of The Lovers.
After lavishing so much praise on the two support acts, you may expect that this made it tough on tonight's headliners, Enon. However, Enon are seasoned pros when it comes to playing live, with members previously playing in bands like Braniac and Blonde Redhead. Kicking off with the Pavement-y "Old Dominion", Enon started off with some of their more guitar orientated tunes from their album "High Society". However, like the Bloodthirsty Lovers, you never know what is around the corner. After a couple of tunes, they moved more towards their electronic side with the likes of "Natural Disasters". From her on in, the silver-tongued bassist Toko Yasuda traded vocals with the charismatic frontman John Schmersal. Yasuda shined particularly on tracks like "In This City". While the majority of their studio material features four members, Enon are now just a three-piece. Nevertheless, they didn't seem to let this inhibit their performance, with some crazy programming playing a role throughout the show. Highlights were numerous, with tracks such as "Leaving It To Rust" being particularly pleasurable to these ears. Some strange sound interspersed into a chorus reminiscent of Weezer. By the time Enon unleashed "Carbonation", Schmersal was prancing around the stage like Iggy Pop! It was a fantastic performance from Enon, and not even a fully lit room could deter them from delivering it.
At a time when ticket prices have gone from expensive to outrageous (ref. Paul McCartney andNeil Young), it is refreshing to know that there are still people in the corner fighting the good fight. Even more refreshing is that it is on our doorstep. Tonight saw three great performances at one of the best value for money shows we will see for some time.
Ciaran Ryan

Feel free to discuss this review on the CLUAS Discussion Board.