Iggy Pop
The Olympia, Dublin, 15th July 2002
For most of the 40,000-strong crowd that attended the Witnness festival this year, the so-called "come-down" probably means 2 hours in a shower and 18 hours in a bed. For me personally, the comedown is a ticket to Iggy Pop, a mere 6 hours after getting home. Given the inevitable power and energy of an Iggy Pop performance with a crowd doing their best to match it, I'm not entirely sure standing on the ground floor of the Olympia amongst all the moshers is a good idea in my current condition. So for now at least, I'm content to take a much-needed seat in the bar.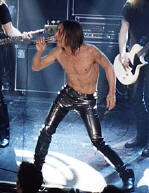 As a friend and I are indulged in conversation, we're interrupted by an ear-splitting intro from Myslovitz, tonight's support act. If there's one word to describe tonight's show, it's LOUD. The Olympia must be bending the decibel level law tonight. Myslovitz are loud, they're brash and in your face. They're not unlike JJ72, but with a lot more aggression and vigour.
Eventually the crowd gathers and one glance at them shows that the following that Iggy has built up over the years is very obvious. Some of the crowd are little more than teenagers; others are as old as Iggy himself. And before long, a bearded and (predictably) shirtless Iggy takes the stage exploding with 'Mask' from the recent "Beat 'em up" album. All Witnness fatigue is temporarily forgotten, as the show remains blunt and aggressive with every song being played in an incredibly fast and over-driven fashion. To this end, 'L.O.S.T', 'Beat 'em up' and 'The Jerk' are all notable features from his new album. Even 'Real Wild Child' is overdriven to an eardrum-busting level. All the traits of an Iggy Pop gig are here: a stage-dive for 'I Wanna Be Your Dog', a stage invasion for 'The Passenger' as well as his wild stage antics. It's quite comical in a way when you think of the by and large inactive stage presence of say,Starsailor or Oasis, to see a 55 year old man constantly hopping around the stage with the enthusiasm of a teenager.
It may be fair to say that Iggy Pop's current status is more iconic than it is gifted, but try telling that to an utterly exhausted and half-deaf crowd going home from this gig. Having witnessed a show that is in promotion of an album as unimportant as 'Beat 'em up', you have to admire Pop's blunt and brash attitude with his music. Love him or hate him, he doesn't seem to care. What we care about though, is that he'll be back again with the same old resilience; but for now (and I'm sure I'm not alone here), I'm off to the doctor's to get my ears syringed out in a probably vain attempt to get my hearing back?
Jimmy Murphy

Feel free to discuss this review on the CLUAS Discussion Board.