Echo and the Bunnymen
Review of their gig in Vicar Street, Dublin, 24 November 2003
Gauche is his middle name. Crowned with a ridiculous mockBowie quiff, he dances like a drunken navvy, he gives his soundman awful guff, and his between song patter is so doused in Scouse that you wonder if English is his first language. He's all of this and more but above all Ian McCulloch, lanky front man heading up Echo and the Bunnymen, is a Rock God.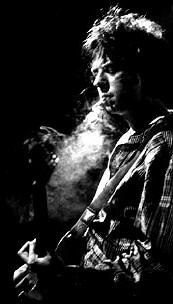 I saw the Bunnymen in McGonagles in 1982 - Ian McCulloch was The Face, you knew that this was a band that was going to conquer the world. If they were bothered. Their recorded output was top notch-concise pop, darker than The Cure but accessible and well structured. All it was going to take was putting in the hard yards in the US, slumming it in the crummy motels, gigging to audiences of three people in dustbowl towns where - as Diamond Dave Le Roth memorably put it - the mosquitos bite you through your leather jacket. They gave it a go but, unlike some of their rivals Mac and the lads reckoned that making it big in the States was not worth it.

Mid-eighties it all went pear shaped - McCulloch jumped ship, egos took over and the drugs most definitely did not work. Rock bottom was reached the rest of the band recorded an appalling psychedelic album with a different Where-The-Hell-Is-He-Now frontman. People were lost along the way - Les Pattinson, the bass player, was called away on domestic duties, while Pete De Freitas, great drummer, all round good egg, and nearest thing to Bunnyman beefcake, bought it some time ago in a motorcycle accident. McCulloch is still there of course, and crucially, Will Sergeant - no oil painting but a criminally underestimated guitarist - also stayed the course.

In 1999 the reformed band released "What are you going to do with your life?", part lounge classic, part musing on death and dust and decay. It's a lyrical and melodic masterpiece. Mid-gig they do a glorious version of "Rust", one of this great album's top cuts but the show itself fairly blasts off with "Show of Strength ", the opener on "Heaven up Here", the album that broke them in the mainstream market. Backed up with some power chords that even now can put your hair on end and bedded down with a slide motif to die for, McCulloch sounds like a husky angel, the band kicking up an absolute sound storm, till the glistening fade, "hey I came in / right on cue / one is me / and one is you".

For the next 90 odd minutes classic follows classic-aside from his obvious Lizard King fixation McCulloch can croon, and he can also turn to a huge operatic roar-check out the chorus on "Back of love". The band rip through "Over the Wall", "Crocodiles" and they draw heavily on their Greatest Hits collection "Songs to learn and sing". There's a twitchy kicking version of "the Cutter", "Seven Seas" is a sing-along, and "The Killing Moon", with its oriental guitar lines, swishy rhythms and soaring chorus, lifts the roof off.

The Bunnymen treat us to great pop rock songs, music that's concise, witty and lean. In the midst of all this they glide through "Bringing on the dancing horses", as majestic a piece of melancholic pop music as you'll ever here. The crowd called out for more and encore followed encore. McCulloch has given up on the soundman, he swears at a punter wrecking his buzz, he chain-smokes, he swigs on his lagers like some bona fide salty sea dog. The band love every minute of it. And so do we.

Check out an another review of this Echo & the Bunnymen gig.


Check out the CLUAS review of Echo & the Bunnymen's compilation album 'Ballyhoo' (released in 1997).


Check out the CLUAS review of Echo & the Bunnymen's album 'Flowers' (released in 2001).