Damien Dempsey
Vredenburg Theatre, Utrecht, Holland, 29 January 2003
"Howrya doin' Utrecht? My name's Damien Dempsey, I'm from Dublin. I hope yiz can understand me accent...
Sure youse probably speak better English than I do."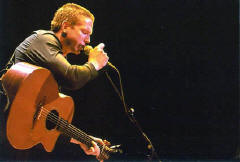 Here we are then, in the plush surroundings of Utrecht's Vredenburg theatre on a bitterly cold night in late January. Damien Dempsey has just taken front and centre on the final stretch of a tour that began in October, as Sin'd O'Connor's special guest. Indeed, such has been the praise heaped upon the Donaghmede man by Ireland's most famed daughter that you feel his introduction was hardly necessary. Nonetheless, formalities out of the way and it was time for him to unleash his not-exactly-traditional brand of folk-urbania on another three-thousand of the Sin'd faithful.
Whether it's the matter-of-fact content of his songs or his distinctly Dub delivery that do it, it's hard to dispute the unusual charm the man possesses-especially in the live arena. It's clear that I'm not the only person here that's captivated by the way he contorts his features to an exacting point, allowing the requisite amount of passion to be eeked into his vocal take on the issues he sees debilitating the place he calls home. The scourge of drugs along with the surge of mugs, believing the hype and bowing to a plastic economy are two such issues he addresses with the wonderful 'It's All Good' and the rousing 'Celtic Tiger'. Two very different songs that are, despite tonight suffering a bout of bronchitis, expelled by a voice that, in one breath, could both stop a bar-brawl and knit an Aran sweater. Extraordinary.
Further proof of Dempsey's growing stature, as if it were needed, came with another gem, 'Apple Of My Eye' and the ragga-tinged 'Negative Vibes', both performed with wholly anthemic execution. And that was that, in the space of forty-five minutes a large portion of this Dutch public is left feeling pretty damn Irish and judging by the reaction, any questions about whether Dempsey's appeal can be transported beyond the green shores have been well and truly answered.
Frank McNally

Photo by Andreas Terlaak (taken at the Utrecht concert). Andreas can be emailed at terlaak@zonnet.nl


Have you checked out the CLUAS interview with Damien Dempsey?


Check out a review of Damien Dempsey live in Dublin back in 1999.


Check out our other articles on theIrish Folk Music Scene.