This article was first published on CLUAS in Oct 2003
Interview With Horst Tubbesing
Founder of Arc Music, the first independent global 'World Music' label...
Mark Godfrey chats with a legend in world music: concert promoter, record company founder and inspirational enthusiast of world music, Horst Tubbesing. The travails of starting out, the difficulties of promoting world music and the childish pleasure he takes in his job were all on the menu during the chat in Hamburg.
---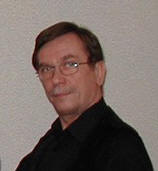 He's been a long time making music but Horst Tubbesing isn't done yet. German music promoter and father of world music record distribution, Tubbesing has brought many Irish groups to the attention of the world. He started out as a promoter on the legendary Hamburg club scene, the germination point for legends like the Beatles and Van Morrison. Today the company he founded, Arc Music, has offices in Germany, UK and USA, distributing the works of 320 acts from and in every corner of the world.

Recognising the difficulty of talented ethnic musicians to get recording contracts, Tubbesing set up a record label devoted to world music. Starting off with a few vinyl recordings to promote touring artists from Bolivia, he founded the label 'Eulenspiegel' which gestated over the decades into the international Arc Music company, with in-house recording, mastering and graphic design. The company's first ever release, a Bolivian live folk set, is still popular 25 years later. From selling a few vinyl recordings from the back of a Citroen 2CV in 1976 to an international company delivering thousands of CDs each week to all corners of the world, the journey has not always been easy for the Hamburg man, whose Arc Music firm was the first label to put folk & world music on CD in the late '80's, making it the first world music label to move into the international market.

Horst Tubbesing oozes the enthusiasm that carried him from travelling record salesman to influential record company executive. "From 1971 to '75 I worked as a promoter in two prestigious clubs in Hamburg. I worked with a lot of what we call today folk music, world music and got to know some very talented musicians, like Boys of the Lough, De Dannan, The Furey Brothers and the Sands Family. Later we had Los Repay, Ukamau from Bolivia, great guitarists like Stephan Brossmann. I was seeing that most of these talented guys who were drawing an audience every night didn't have any record contracts."

"I didn't know what I was running into or how long it would be until it became viable... I basically wanted to make out of a hobby, a profession. It was something like a hundred hours a week for ten years. But if you have a goal which has to do with aesthetics or with arts the drive you get out of it is so enormous that it doesn't matter because work is pleasure."

Bolivian folk stars Los Rupay was the first group he recorded. "In 1971 these guys came from Bolivia, they toured a year in France, they came over to my club to see if they could get a concert, and I was so impressed about their professional level that they got several dates right away, and the crowd was absolutely, absolutely excited. It was recorded live in studio, two tracks in four hours - perfect! All the technique we have today wouldn't have captured the liveliness, the enthusiasm. And it still sells well today."

Getting outlets for his record company's product wasn't easy. "It was enormously difficult. I mean from the 500 independent record stores which did exist in Germany then, I only visited record stores which were owned by individual people, not chains like we have today. And maybe ten of them had a folk or world music section established, it didn't exist at all, so it was something to be established new, and they had two or three world or folk music albums in the pop section and I had to convince each and every one of them to establish a new section, a world music section, and so we were really the pioneers."

"It needed a lot of unseriousness on my part to go with 5 albums in the back of the car, a hundred of each LP and the pad to write invoices from record store to record store, town to town. I went there with a surprise effect. Nobody would have accepted me coming so I had to use the surprise effect and I got fifty percent of the stores I visited to sell the records. It was rough but it was a game and therefore it was a lot of fun, only when it took longer than I expected. I thought that after a year I would get a salesman to do it and it took 10 years until I got the first person who stayed longer than two weeks. They all said 'we can't do that!' The difference is you can identify with the product you have created and you are excited and so can get it across to the other person and that makes a difference, but I also needed to pay my bills."

Horst used the revenues from a rock n' roll album by a very popular local German group to finance the re-release of the Los Rupay album. One of the early releases on his Eugenspiegel label was Irish group Tara's first album. "Tara went down very well because the group was touring Germany twice a year, doing the whole club scene from Flensburg to Munich, and we did two albums and sold thousands of copies and we have it in all our Irish festival compilations and it is still in the catalogue today after 25 years, even though the group has long since broken up." Another Irish artist who came on board in the late 1980s, Noel McLoughlin became one of the label's most popular album sellers.

Irish artists have always been a mainstay of Arc Music's catalogue. Romiosini meanwhile was the first Greek folk group to build an audience out of the label, becoming one of Arc's most popular acts. "The lead singer then founded the group The Athenians, which became more popular than even Romiosini, and there is one special album which I am extremely proud of which is a recording of the famous Canto General from Mikis Theodorakis, which was a Greek orchestra plus choir recording where the choir part is done by Joel Perri on South American Indian flutes. And this was one of these recordings where everyone said 'Horst you are crazy, this won't work out' and I did it and it went out beautifully, and it's also one of the recordings which sells still today."

Celtic style Irish-American outfit Golden Bough were available in the States but didn't have any outlet in Europe until Arc took over and did distribution for them. "Golden Bough had performed at some prestigious festivals, even in Ireland, and as a non-Irish group were very well accepted and especially their vocal capacity. They have an incredible set of voices and an extremely good variety of instrumentation on the pieces, something I had not seen very often before. But the point which impressed me most was the way they were performing live. It was always so exciting, such a pleasure to see the audience going for them. It was like a family event. They toured a lot across Europe and we got them on radio and on major TV shows."

A favourite on the playlists of RTE's music presenter John Kelly, throat-singing - a Mongolian music form - is represented on the label by a group called Egschiglen. Says Tubbesing: "I was so fascinated when I saw this group at the WOMAD world music festival in Reading. I was invited to the show by the agent of the group, and to hear somebody singing two different high tones and low notes at the same time - I have never heard this nor the instruments used."

Putting out more than eighty albums a year, Arc has established sales points across most of the world. "Almost. Not in the Sahara and not in some of the totally third world countries" said Tubbesing.

Promoting his artists is one of the priorities of good business for Horst and Arc Music has several methods of building fanbases. "Sometimes we send out more than a thousand cds into over 50 countries to radio stations, and the reaction is absolutely great. We sell a lot on amazon.com and over the web. We put surveys in our products, and I read thousands of them, and we used the data to improve our standards to what they are today." To mark the company's 25th anniversary Arc released a special 20 track album which was distributed as a present to its CD buying public through world music magazines.

The internet helps greatly. "The positive thing about the website is that you can actually listen, which is very important so you get an impression of what you're buying. You can order directly there then, or, as many people in other countries do, go to the local record store and buy it." Many listeners have also been drawn to the music by the big screen: "We've had many opportunities to get our music out on movies, and into a lot of documentaries. One artist, Hossam Ramzy, had a track on "Stargate" and "Walking With the Lions" was another movie that used some of our African music." Channel 4 and the BBC regularly dip into the Arc Music catalogue to find music for their film and documentary output. Air Canada meanwhile uses Arc Music's Egyptian percussionist Hossam Ramzy for its in-flight audio entertainment.

With this kind of attention the audience for world music can only expand. Ethnic music acts, with a few exceptions, will rarely produce the kind of revenues that mainstream acts shovel back to record companies. But Horst Tubbesing's not complaining. Plenty of enthusiasm and a love of the music he distributes are his ingredients to success.