This article was first published on CLUAS in July 2001
Rubyhorse
First I'll take Massachusetts...
There's an Irish rock revolution going on and you don't even know about it. U2 did it, so too The Cranberries and now five likely lads from Cork are conquering America. The name Rubyhorse is most probably foreign to you but that will soon change, rest assured.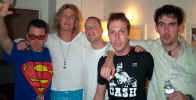 On the flip-side however, Oasis failed to do it, so too Blur and countless other big name, big budget acts from our neck of the woods no matter how hard they tried. Why? Because they were too damn British in every way. That, Americans do not like. Make no mistake, Rubyhorse are as Irish as they come but they sound like they could be American and that's the important thing. They never set out to sound this way and never made any concessions along the way but still this path has seen them sign one of the biggest debuting record deals in history. This is their story?
Dave Farrell, Joe Philpott, Decky Lucey, Gordon Ashe and Owen Fegan have been friends and bandmates since their early teens. As they grew, playing at parties and bars around Cork, they began to realize the limitations of the local scene. It wasn't long before the decision was made to move up to Dublin, believing it to be somewhat of a promised land. As most young bands in the capital know and as Rubyhorse soon found out, Dublin too is a brick wall when your aspirations are high. But where other young bands work endlessly to try and crack the Irish market, becoming disillusioned in the process, Rubyhorse decided to concentrate their efforts on getting a performance visa for the USA. It took 6 months of planning and an abundance of paperwork but these endeavours could prove priceless.
The first few months in their new Boston base was spent in abject poverty, sleeping on various apartment floors of friends and acquaintances. It wasn't until they were offered a 6 week residency at The Burren, an Irish bar outside the centre of the city, that things began to take shape. The first night saw only a handful in attendance but they liked what they saw and by the second night they had brought all their friends and so on.
Pretty soon they had made a home of the place, whenever they played there was a queue right down the street and the word was still spreading fast. So fast in fact that former Aerosmith manager, Tim Collins, had been enticed out of retirement to steer the ship. On the back of all this success they were then offered a residency at Bill's Bar, one of Boston's more accomplished venues. Once again Rubyhorse's high-energy live show came to the fore, leading to a date at the famous Paradise Rock Club in September 1999. This was another major turning point for the band as in the crowd that night were the CEO's of nine major record labels armed with their respective A&R teams. That was when they knew they were making real waves. As lead-singer Farrell remarked, "it was crazy, the most powerful men in music were all there. If a bomb had gone off in the club that night the music industry would have fallen to it's knees." The next day they were getting calls from all these superpowers trying to lure them to their label. They were whisked off by limousine to the airport to spend a week in Florida at one label's expense, the week after, it was LA by another label and thus the bidding war had begun. In the end it was Interscope that won out, not by the size of their cheque but by their hands on approach and sheer enthusiasm.
Within months they had recorded their debut album, How Far Have You Come, signed with the William Morris booking agency and enjoyed tours with Culture Club and Matchbox Twenty. Everything was going rosily. Until, that is, the Autumn of 2000 when Interscope was swallowed up in a batch of label mergers that saw the departure of the existing A&R team and with them the personal touch that the band demanded from their record company. Unhappy, they exercised a get-out clause in the contract and after months of negotiations between the respective legal teams Rubyhorse retained the rights to their songs and released the album through their website, selling 20,000 copies in the process. The album included the track 'Punchdrunk', featuring George Harrison on slide-guitar, which went straight to the top of the MP3 charts.
Now managed by Bob Dylan's manager, Jeff Kramer, they have recently signed on the dotted line for Island Records and the Rubyhorse express is well and truly back on track. This week sees the band flying off to Nashville to record three further songs that will accompany the existing tracks on How Far Have You Come to make up their first Island release which is due before the end of the year. A tour with Counting Crows should also help to raise the band's profile across the nation and after that? Who knows.
Frank McNally

Click here to download a free MP3 of Rubyhorse's song 'Punchdrunk'