Rubyhorse
Listen to their song 'Punchdrunk'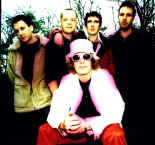 They started in 1997 rehearsing in a meat factory on the outskirts of Cork and 4 years later they've signed their second (!) international record deal. Yes, at the end of July 2001 the 5 Boston based Cork guys that make up Rubyhorse signed with Island records. The track featured here 'Punchdrunk' was top of the MP3.com charts for some time recently and - get this - it features George Harrison playing slide guitar. And that's not a joke. Check out the Irish band 'most-likely-to' that, er, most of Ireland hasn't yet heard of.
Rubyhorse are:


Dave Farrell - singer


Owen Fegan - keyboard player


Gordon Ashe - drummer


Joe Philpott - guitarist


Decky Lucey - bass
For more info on Rubyhorse:


Read also Frank's feature article on Rubyhorse here on CLUAS


Check out www.rubyhorse.com
Options to Download the Song
File Format
Download link
File Size
Approx download time (56k modem)
MP3
Download here!
5.1 MB
13 minutes
Windows Media
Download here!
1.3 MB
3 minutes

Note: If you have trouble downloading, 'right-click' the download link above and choose 'Save Target As' from the menu (in Netscape choose 'Save Link As')
Options to Stream the Song
| | | |
| --- | --- | --- |
| File Format | Streaming link | Notes for 56k modem users |
| MP3 | Listen now! | Not recommended for 56k (or slower) modems |
| Windows Media | Listen now! | Recommended option for 56k modems |

Note: Allow us to state the obvious but to listen to the songs on your computer you'll need to have a PC that has a soundcard and speakers (or headphones). The PC will also need to have a Media Player installed. If you don't have a media player you can download one - for free - from Microsoft.


Not sure what to do? Hit the button below for answers to FAQs (Frequently Asked Questions)