This article was first published on CLUAS in Aug 2002
A reflection on Madonna's career
Mark reflects on the music biz power broker that Madonna has become...
She was born in 1958 near Detroit. She was christened Madonna Ciccone by her strictly Catholic mother. She was the eldest daughter of her engineer father and housewife mother's eight children. She always wanted to be a star: she starred in school shows, joined the cheerleading squad, took piano lessons, danced ballet classes, won a scholarship to attend the University of Michigan... Grew impatient for stardom, left college, moved to New York... Skint, broke, worked at Times Square Dunkin' Donuts, got some gigs with dance troupes. Restless, ambitious... Turned to music.

Madonna's life story was made for movies, plot-designed for books, tailored to tabloid needs. And it's the woman herself who often ensures it's so. This is no ordinary musician. This is a publicity-obsessive, media addicted, power-driven, talent-loaded music mogul. Talent in the Madonna sense is as much or more commercial than necessarily artistic however.
Her eponymous debut album was released to zero fanfare in 1983 but, luck, always watching her back, ensured New York's dancefloors heard of and took a liking to Madonna. The first single off her album, "Holiday," soon leapt from dance-floor turntables to city radio playlists and onwards to America's Top 20. "Lucky Star" and "Borderline" followed where "Holiday" left off. It was the middle of the eighties, the savagely selfish "give me, look at me" decade. Madonna would give all to get all, then and since. Her's became a stripper's wardrobe, her videos suggested, hinted towards a total willingness to wear the flesh of success, turning over any final inhibitions or alcoves of personality in the process.
Religious accessories and a designedly bad dye-job crowned it off. 'Like a Virgin', in providing the singer's first number-one single, made her a certified sensation. The song was clever and utterly memorable, but hardly sensational. Madonna had started as she meant to continue, decent pop songs sung by a woman who can't say or hear the two letters "no", her powerful energy allowing her to make a credible shot at dominating every medium of the entertainment world. A sold-out tour came alongside feature film roles in Vision Quest (1985) and Desperately Seeking Susan (1985). She made her theatrical debut in a production of David Rabe's Goose and Tom-Tom. Then came her media-managed, publicity squeezing wedding in 1985 to Sean Penn. Every tabloid's favourite, the couple made the slushy Shanghai Surprise (1986) before divorcing after four years. Madonna was spreading herself thin and her output was suffering more than usually. Like all good survivors and clever businesspeople, she knew it and stood back.
It was the 1989 album Like a Prayer that Madonna returned to play knock-a-door-run on the Catholic Church, reaping tremendous publicity with a mostly lousy but totally one dimensional video. A slip-clad Madonna danced before burning crosses, kissed an African-American saint, and displayed spontaneous stigmata, driving the churches beserk. In the sting in an otherwise perfect Madonna manoeuvre, Pepsi cancelled its sponsorship of Madonna's tour and a TV commercial starring the video vixen. But Madonna was secure again in the knowledge that she could make mediocre music and let scandal sell it. She went on to employ similar promotional techniques to boost ticket sales for her 1990 Blonde Ambition tour, box office figures for the documentary Truth or Dare (1991), and sales of the X-rated Sex book and the similarly themed album Erotica (1992).
In 1992, Madonna cemented her superstardom with a seven-year, $60 million deal with Time Warner. Under the pact, she became head of her own label, Maverick, which she formed with long-time manager Freddy DeMann. Initially dismissed as a vanity studio, Maverick has succeeded beyond even the Material Girl's most ambitious dreams, thanks to best sellers Alanis Morissette and the Prodigy. As the record company boss, Madonna now makes more from each Morisette album than she does from her own.
Once the Sex scandal blew over, a satisfied but knowingly over-exposed Madonna, slipped away from the limelight and into some indie film roles. Ever the utilitarian, Madonna was preparing for a broader career shift. And then, like a remarketed beer brand, the freshly packaged Madonna re-emerged: a mother-to-be and a serious actress. After welcoming daughter Lourdes Maria Ciccone Leon - "Lola" to mom - into the world she overcame the protests of the Argentine people to appear as the titular heroine of Evita, the musical. This was the role so genuinely designed for her that it seemed autobiographical. She thought so too. Critical acclaim came for her fine performance, with Madonna winning a Golden Globe for Best Actress in a Musical or Comedy.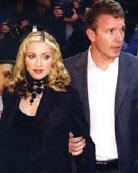 Motherhood and thespian notions had a big effect on the provocateur par excellence. Her latest makeover seeks to project a sedate, subdued, and spiritual mother, something similar to what Sinead O'Connor has managed to do over the same period of time. But at least Madonna has saved our senses and started to choose her artistic projects more carefully. The 1998 release, Ray of Light, was for example released sans cheap publicity stunts, affecting people more quietly as a moody, introspective album worthy of the praise it received.
A big fan would buy her last hits package for the signature Madonna all-or-nothingness of it. For the pictures in the booklet, the edited tracks, the career summary (a summary in this case of course being more difficult than in most others). She should be pleased with it, the material mom. In a pre-release interview she stressed she included only the songs she felt were great songs: well written and well produced. So yes, maybe that's why "Bad Girl", "Fever", and "Nothing Really Matters", don't deserve to be there. "This Used To Be My Playground" should be however.
With more film plans secured and acting roles being sought, we're going to get plenty more multi-media Madonna. London's most zealous was for Madonna to play Velma Kelly to Goldie Hawn's Roxie Hart in 'Chicago', a film based on the Broadway musical of the same name. More recently, she's been putting in a credible performance in 'Up for Grabs', an Eastend production of a work by Australian playwright David Williamson. Madonna portrays an art dealer who will do virtually anything to make a sale. Even more appropriately, the storyline has been shocked up by a lesbian kissing scene, a rather large sex aid, and some simulated masturbation. Madonna also gets to sing.
And always keen to nurture her corporate side, the pop icon is hard at work developing two new Maverick divisions she heads: Mad Guy Television and Mad Guy Films. There's a line or two from Evita which are keenly biographical of Madonna. "My story's quite usual... But one thing I'll say for me, No one else can feel it like I can..." Madonna is admired, despised and feared because she's a woman powerfully successful as an entertainer and an impresario in a world traditionally controlled by men. Her music was never radical, never revolutionary. It was how she marketed it, controlled it and performed it that made her a world-wide phenomenon.

Check out a review of Madonna's first ever concert in Ireland in August 2004.