This article was first published on CLUAS in August 2005
Gotan Project
Mark catches up with French electronic Tango merchants. In China.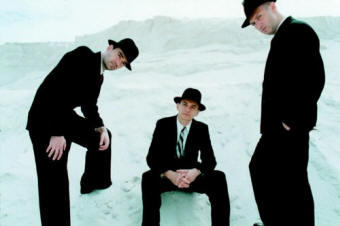 French band Gotan Project's mix of Argentinean tango and electronica was the highlight of a festival of French alternative music in Beijing.
---
It was the night Woodstock came to Beijing. Well, a very mild version of it at any rate. But the music fans sat, squatting and sleeping on the gentle slopes of Chaoyang Park could have been lapping up a summer festival in New York's Central Park or on the grassy hills of Glastonbury in England. Local Beijingers mingled with expats and hawkers selling ice cream and ice tea at TransMusicales en Chine, a two-day festival of French alternative music.

Aside from electronic pop meister St Germain the best-known act to play at the festival of French pop was Gotan Project, a trio from Paris that mixes Argentinean tango music with modern electronic music. Conceding that "maybe they don't know much about us," the group's frontman Phillipe Cohen Salal said he felt the time was right to come to China. "We're not a mainstream act but when we played in Seoul and in Japan the response has been great." No stranger to Chinese culture, Salal was returning to China after first coming here several years ago to work on the soundtrack of Shanghai Triad, a hit film by Chinese director Zhang Yimou.

Gotan Project's tested the Chaoyang Park audience with a show that was as much visual as aural. "We prepare a very visual performance, it's a whole thing that you can feel," explained Salal. On stage the group, dressed in the smart black suits of a Buenos Aires salon band, were largely invisible to the audience, playing behind a screen suffused with Latin American cultural and political references. As the group's 90 minute set began a white curtain rose and the first notes of a bandoneon accordion escaped into the air. Fleeting images of scantily-clad dancers and Argentine cabarets flashed across the flimsy screen obscuring the group, edited in with clips of Che Guevara and Argentinean labour leaders.

The group's stage management may have been a little subtle for a Beijing audience brought up on the glitter of lip-synching Mandopop concerts that pack out the city's Worker's Stadium every summer. "Next year we'll release a new album and come up with a new show concept," said Salal. Songs from the group's breakout La Revancha del Tango like Queremos Paz and Triptico rose cheers from a crowd that had filled out to around 3,000 by 10pm. An imaginative rendering of Frank Zappa's 'Chunga's Revenge', and Gato Barbieri's theme from the movie Last Tango In Paris were picked up by some of the sizeable expat crowd. But, in a hint to just how broad and inclusive Gotan's tastes really are, a spiced-up take on Astor Piazzolla's 'Vuelvo Al Sur' had most of the crowd dancing by the time the group hit the chorus. Passions were checked however by a ring of security that kept the audience a good fifteen metres from the stage and split the crowd in two halves. As two hired professionals danced a sensual tango across the stage, the copy-cat efforts of more than a few carried-away locals in the audience were squelched by over-attentive guards.

Salal believes the band takes much of its creativity from its hometown. "Paris is a good place for exploring. There are so many different communities so there's a collision of culture." Gotan Project grabbed an enthusiastic audience in European and the US when they came on the scene in 2001. Music from La Revancha del Tango turned up on escalators and in boutiques from Paris to New York. The trio's music has proven accessible to fans of electronica and tango as well as world music connoisseurs but still remains soft enough to charm a vast audience hankering for chill out music to accompany a day's chores. A strong identity has been key to the music's success, suggests Salal. "You can find jazz, club, house and Argentinean in our music but we try to get a strong identity too? a world music mix is like when you cook. If there are too many ingredients then there's no taste," he says, recounting a recent trip to Argentina where he discovered a band making electric tango. "They were quite good but then a singer came on singing in Arabic and it was stupid. There is no connection between tango and Arabic music!" Gotan Project tracks tango to its roots, which are African, explains Salal. "Tango began from Africans caricaturing the European white people's way of dancing. White people took it on because it was cool at the time."

A child of the seventies in his own music tastes ("[David Bowie's] Ziggy Stardust changed my life") Salal ranks the Sex Pistols' Never Mind the Bollocks and Neil Young's Harvest among his favourite albums. He also lists Scottish electronic rock group Primal Scream and country music legend Johnny Cash as defining influences on his musical evolution - Salal spent a month on a bluegrass workshop in Tennessee last year. The group meanwhile counts recent albums by Gorillaz and Beck as peer works. Though "not a big fan" of a lot of new French music he admires Serge Gainsborough and Nouvelle Vague.

Gotan Project has played venues as geographically and culturally distant as Beirut, Buenos Aires and Tokyo. Salal is a keen observer of local social and cultural phenomena. From atop the Great Wall, Salal reflected on the breakneck pace of change since he came to a "very different" China eight years ago. "You immediately see KFC and Starbucks and Carrefour now. China is bursting with the freedom to consume." Observing social change has become part of Gotan Project's music. Salal writes songs that dabble in the words of iconic south American leaders like Che Guevara and Eva Peron, sampling a Guevara speech in the hit "Queremos Paz" (We Want Peace). "We use the voice of Peron because she is a myth in Argentina. You can't avoid it, you don't have to support her? you have to follow your ideas in life."

Having played Beijing's largest park, getting a local record distribution deal in China is a logical next step for Gotan Project. Finding the right deal hasn't been easy however. The group has sought out independent Chinese labels and has also had contact with Universal in China. "As with major labels there are very good and very bad independent record companies," says Salal. The group is looking for a motivated partner that also likes the group's music. "We have a distributor in Portugal that's a small company of two people but they have the same effect as a large label with 35 people in the office!"

A local penchant for bootlegs doesn't worry Salal, who's more worried about the quality of any illegal copies. "If it's a good copy and if people who don't otherwise have the money for a CD buy it, then I'm okay with that? It depends on the country and it depends on the bootleg. A copy I saw in Argentina was terrible, the name was wrong and there were two singles on it that weren't ours." But Salal is also angry that wealthy Europeans and Americans opt for pirated albums. "It's different. Why do they not want to pay for a CD but they're prepared to pay EUR3 for a ring tone?!"

Mark Godfrey

Check out the latest Gotan Project album 'Inspriacion' on Amazon.