This article was first published on CLUAS in January 2008
Interview with God is an Astronaut
Ken catches up with Wicklow natives God is an Astronaut...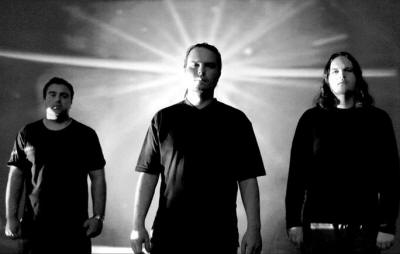 Let's cut to the chase: God Is An Astronaut are the best Irish band since Whipping Boy. From the startlingly good electro-rock of "Coda" through to the surging emotive power of "Fragile" and "Suicide By Star" right up to this year's quite brilliant "Far From Refuge" album, this Wicklow three-piece have a singular gift for coming up with some of the most brilliantly atmospheric yet darkly melodic (post) rock music there is to be found out there. This is music that is in turns menacing, thrilling, awe-inspiring and not afraid to take itself seriously.
Consisting of Torsten Kinsella on guitar, keyboards and vocals, his brother Niels on bass and guitars and drummer Lloyd Hanney, they have released three albums to date: 2002's "The End Of The Beginning", 2005's astonishing "All Is Violent, All Is Bright" and this year's "Far From Refuge", which the good readers of Cluas.com have picked as one of the top thirty albums of the year. 2006 saw the release of an EP "A Moment of Stillness". Live, the use of disquieting yet brilliantly effective visual imagery in perfect sync with the music makes for quite a memorable and highly recommended gig-going experience. You can see for yourself when the band play two gigs this month. They'll be at The Button Factory, Dublin on the 18th January and Cyprus Avenue, Cork on the 19th.

Ken Fallon recently caught up with guitarist and vocalist Torsten to discuss the current state of play with the band.
---
Both this year's "Far From Refuge" and "All Is Violent, All Is Bright" from 2005, are in my opinion, two of the finest albums I have heard from an Irish band in a long, long time. Does inspiration for new song ideas come easy to you? How easy or difficult do you find the songwriting process?

We are glad you like our music but I think our music has virtually gone unnoticed in Ireland, for whatever reason. Luckily things have gone pretty well outside Ireland with various licensing deals including deals with Rocket Girl who are now managing My Bloody Valentine. Our recent European tour was very successful with big turnouts and even some sold out shows. We also got to play in places like Moscow, headline the 'Rock for Peace' festival in Istanbul, Turkey - in front of 25,000 people - and even got invited to play at the Echo Project festival in Atlanta. It's ironic we didn't get one festival offer here despite being promised a certain festival.
As for the writing inspiration, it's never far away. We write from our hearts, our own experiences and we really like what we do but we are spending more time these days trying to get every new song to its full potential, which is harder than it use to be as the songs are becoming much more elaborate.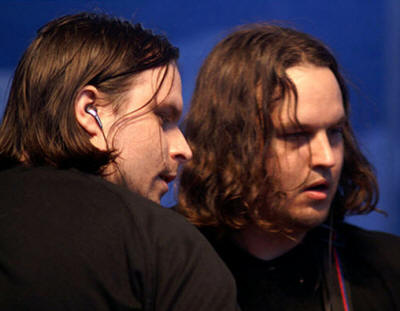 You and your brother Niels are the main force in God Is An Astronaut. Do you find the creative process any easier, as there must be a real intuitive understanding of each other?

Myself and Niels have been writing music together since we were kids. We played in bands together since the early '90s, we share a very similar vision for what we are doing but the main force in God Is An Astronaut is all three of us, and our manager Tommy.

Is there one main songwriter in the band or is it a collaborative process?

Myself and Niels originally were the driving force but in recent times it's become much more of a collaborative effort with all three of us contributing ideas. I still begin a lot of the initial ideas.

The use of visuals is an integral part of the live set-up. The imagery you use is quite uncompromising yet, aesthetically and emotionally, it always seems to work perfectly with the music. Could you elaborate a little as to why there is such a prominent visual element to the live set-up? Do you have a professional filmmaker/editor who assembles this footage for your gigs and music videos or are you responsible for it yourselves?

We edit and compile the visuals ourselves. The visuals aren't as essential as they once were but it does add another creative dimension and helps bring the songs and their emotions to the surface in a live setting. In the last year or two we have been focusing much more on the music, which is the reason why we are here in the first place.

The music is largely instrumental with the vocals processed to make them sound like another instrument, thus inviting comparisons with Mogwai, Godspeed et al. Yet the use of synths, and a subtle electronic element to the music, marks you out from these bands. Are you comfortable with being described as a "post-rock? band, however?

We don't mind the term post-rock (as) it's been mainly beneficial in helping people to discover our music. Our Last FM page is a good example of this- we are approaching 2 million plays on our Last FM page. But God Is An Astronaut began before we even heard of the term or the scene. We were described initially as dance/electronic and then shoegaze and then finally post-rock. The negative side of it is that journalists make silly comparisons with other post-rock groups, name dropping them in our reviews to pretend they know what they are talking about, making comparisons when there are none to be made. We added vocals in to give the electronic pads and strings a human emotion.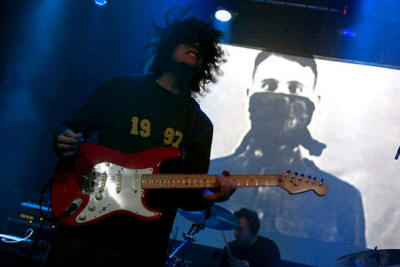 Are you ever worried that you could just end up repeating yourselves with each new album, of possibly ending up in a creative cul-de-sac? Are there any ideas you'd like to explore that are outside the confines of instrumental/ambient/ post-rock?

It is a concern for us but I don't think we have made that mistake yet. We always try to do something a little bit different whilst retaining our overall sound and our attachment to melody. We are working on a more up-tempo approach at the moment. We will have a new single coming out very soon, which will be available from our website. It's more of an electronic sound hybrid whereas our last album was a little more organic.

How was it working with the lost genius of Irish rock Fearghal McKee" Were you a fan of Whipping Boy?

We were all fans of Whipping Boy. It was a pleasure to collaborate with Fearghal, he is still a very creative and original musician.

How do you view the state of contemporary alternative music in 2007? Who are you listening to at the moment? Have you been impressed by any Irish bands recently?

I haven't been listening to much music for the last year. It's not something I enjoy when I am writing my own music, as I tend to shut other music out. I haven't been paying much attention to what's going on here either, but what I am hearing on the radio sounds quite British therefore a little contrived but well put together. An Irish band called Butterfly Explosion played with us in Hoxton in London just recently. I liked what they were doing.

You are playing a couple of dates in Ireland in January, in Dublin and Cork. Will these be "audio-visual" shows also, like your gigs from previously this year? What are your plans after that for 2008? Is there a new album in the works?

We have two shows in both Dublin and Cork on the 18th and 19th of January respectively. Both will have visuals. There is nothing else planned in Ireland other than that. We are working with the Agency Group in New York who will be setting up a small headline US tour in March on the east coast and the west coast possibly for October. We are back to Portugal for some shows in April and a couple of dates in the U.K. too. Another European tour is also planned for later in the year. We are also working on a new album due for release in 2009.

Interview by Ken Fallon



God is an Astronaut's new single 'No Return' is now available as a download.