Wolf Parade
A review of their album 'Apologies To The Queen Mary'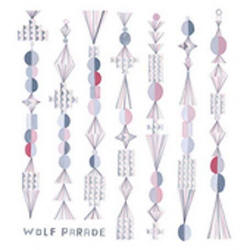 Review Snapshot:
Yet another Canadian band. Yet another quality album. Wolf Parade have created an odd beast of a rock album with the help of Isaac Brock of Modest Mouse. A rewarding listen.

The Cluas Verdict: 8 out of 10.

Full Review:
Apologies To The Queen Mary is the debut album by Wolf Parade and was released in the latter part of last year. This Montreal based quintet formed when frontman Spencer Krug (of Frog Eyes) was offered a support slot by Arcade Fire. Wolf Parade proceeded to get signed by Modest Mouse's Isaac Brock to Sub-Pop Records. So far, they tick all the right boxes as far as credibility is concerned. But is the music any good?

The first thing to stand out on this record are the vocals. The singing duties are split between Spencer Krug and Dan Boeckner. Throughout the record Krug's voice sounds as though it could break at any moment and often it feels as though he has little control over it. On some tracks it can grate and be an irritant. For example, on "Dinner Bells", when his vocal kicked in, part of me wished that this epic song had continued on as an instrumental in the vein of their compatriots Godspeed You! Black Emperor. Boeckner, however, has an attractive raw energy in his vocals, which is demonstrated best on closing track "This Heart's On Fire".

The band's musicianship is of the highest quality throughout this record. The rhythm section on this album is solid and never fails to make your feet tap as you listen to the simple drumbeats. Combine this with their great pop guitar riffs, keyboards, synths and fast tempos and suddenly many of their tracks, such as "It's A Curse", just make you want to dance. The influence of producer Isaac Brock can be see throughout the album and certainly enhances the listening experience. Listen out for the delightful handclaps on "Fancy Claps".

Not satisfied with creating these great fun songs, Wolf Parade also make a number of attempts at big epic tracks. They succeed gloriously on "Dinner Bells" and one may question why it was not chosen to close the record. Its dramatic coda would be perfect ending to this album. However not everything this band touches turns to gold. "Same Ghosts Every Night" again attempts to move into epic territory but seems rather flat and listless.

To be honest, at first I was disappointed by this album. I found the Krug's vocals quite off-putting. Were it not for lack of anything else to do I might not have given this album another chance. Well, thank God for a lack of decent Friday night television, I say. This album certainly grew on me. Take your choice of analogies - onion, cake, ogre - this album contains many layers, more of which are discovered with every listen. One concern of mine is that the album lacks the standout amazing track that it seems to promise. Entering the release of their debut LP they carried a lot of pressure due to their much publicised links with Arcade Fire and Modest Mouse. They have come out the other side able to hold their own and the future is indeed promising.

To buy a new or (very reasonably priced) 2nd hand copy of this album on Amazon just click here.