Waterboys 'A Rock in the Weary Land'
Mike Scott delivers something we didn't expected...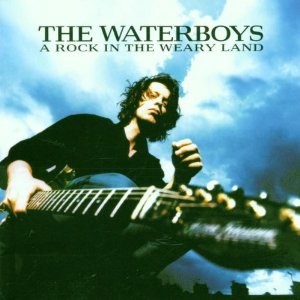 In reality, this is a Mike Scott album in all but name. The Waterboys line up of today is a scantly clad version of old. Anthony Thistlewaite is still knocking around and both drummers on this "comeback" album have worked under the Waterboys' banner several times before. The Julian Cope and Spiritualized musical oddity that is Thighpaulsandra makes his debut in a Waterboys shirt and The London Community Gospel Choir (Blur/Spiritualized) also appear. But you don't really need to know all that do you? What you really need to know is that 'A Rock In A Weary Land' is a fantastic album. A triumph in the face of an ever changing musical climate. The return of the "big sound".
The first Waterboys album in seven years reeks of the big sound. Scott has gone on the record to acknowledge the influences of DJ Shadow, Moby, Mercury Rev, Beck and even The Chemical Brothers on the album, but really, the sound here is the one you've been hoping for. Big, bold and blazing. And none more so on the album's closer 'Crown'. A faded Roman-esque fanfare introduces what starts as a deceptive ballad, then after Scott has exhausted his feelings on himself, the drums kick in. It's a wonderful moment, having exorcised his demons, a demonic workout ensues. Discordant guitar, schitzo saxophones and tumbling piano all hark to Primal Scream's 'Sugar Speed Kill Light'. A f*ck you stance of infinite coolness. The lyrics are almost too autobiographical of what the Waterboys are now: his 7 years as a solo artist are referred to ("...saw a mirage / and for seven years I chased it"), the present and future ("I'm not through with my changes / I've got a long way still to run / I'm going to play this show / even if nobody comes") and the past ("I've had money / and I lost it / seen an Ocean / nearly crossed it").
Since the Waterboys achieved almost mythical greatness at the tail end of the eighties things haven't been so good. 'Room To Roam' was a patchy affair, 'Dream Harder' was impenetrable and weary, saved only by the glorious 'Glastonbury Song'. The band picked up a "raggle taggle" tag (in particular with 89's seminal 'Fisherman's Blues') which, with 'A Rock In The Weary Land' is (some would say) thankfully kicked into touch. The appearance of the London Community Gospel on the superb tile track (of sorts) 'My Love Is My Rock In The Weary Land' testifies this. A stunning piece that evokes the majesty of Spiritualized, the track unfurls in the finest possible manner over its lucious 8 minutes and 16 seconds. It links on perfectly from the eerie 1950's Hollywood B Movie opening track 'Let It Happen'. Scott is unsure of the world as it is now. Walking into a London he deserted (for Galway!) many moons ago, it has become a different place, bereft of spirituality. His love saves him in a way, but the remainder of the album unfurls a Mike Scott not to happy with the world. It has become crass, dumb and impenetrable ("I swing between tears and wonder" he pipes on 'The Charlatans Lament').
But don't let this put you off. While the album is occasionally angry, it stands proud in its anger. Scott is a master songwriter and each track is a gallery piece on how to structure not only a song, but also a sound. 'Is She Conscious' could be The Flaming Lips and it could be about Princess Di, but as a lament to lost life, its structure both lyrically and musically, it is second to none. 'We Are Jonah' is a cartoon comic strip of a song about a man and a whale (!) and is emphatically cheersome. 'His Word Is Not His Bond' recalls Moby in its intro and the songwriting is prime Mike Scott class. World Class. And so on and so forth for the rest of the album...
This record, as Scott puts it in the sleevenotes, is "the testament of my wanderings in the weary land" Long may his wanderings continue if this is the result. It rocks harder than previous Waterboys material, and Scott's embrace of samplers, loops and other programming bodes well for the future. While not in the same league as 'This Is The Sea' or indeed 'Fisherman's Blues', 'A Rock In The Weary Land' is nonetheless a classic Waterboys album. Highly recommended.
Ronan Casey

Click here for a review (and playlist!) of a Waterboy's live in Dublin back in 1987