Therapy?
A review of their album 'So Much For The Ten Year Plan - A Retrospective'
Therapy? have just released their career retrospective, best of album. Entitled 'So Much For The Ten Year Plan - A Retrospective 1990-2000' (even though my copy says 1900-2000) the album is a fiery reminder, as if we needed reminding, of just how damn good the band are, were, and are again. 16 tracks (22 if you get it early with the limited edition bonus CD) of pure stereo grinding bliss, the album arrives in the nick of time into a dangerous world where Coldplay, Muse and Reef can headline Dublin's Olympia Theatre in the same week.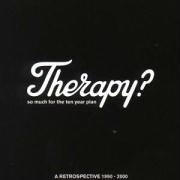 Therapy are a band that'll evoke any one of a dozen memories with most of you. For me it'll be Feile's (Thurles) and Sunstroke (Dalymount Park), Fibber Magees and cider. For some of you it may be this year's Witnness where they announced in the most triumphant of styles: We're still here. Eight years ago the cry was "Here I Am motherf*ckers!" Ten years ago it was "James Joyce is f*cking my sister" among other things. Ah, what bliss. Even though its 1994's 'Screamager' that kicks off the album the real moment comes in four tracks later with 'Meat Abstract'. Although lyrically it sounds a tad dated and wholeheartedly drunk, the music was such a blast of something different that as an introduction to the band 10 years ago was met with jaws on the floor. Here was a band that seemingly had that bit of something that at the same time appealed to indie kids, seasoned metallers, thrashers (this was 1990 after all) and fledgling ravers (still in 1990). It was a truly monumental and seemingly accidental sound. As Andy Cairns recalls today "Originally it was me and Fyfe (Ewing), we needed a bass player...Fyfe said that there was someone at his school who really liked extreme heavy metal. I had visions of someone with really long hair and a studded wristband. And then Michael (McKeegan) turned up. He was the most unassuming guy in the world. We gave him demo tape and then he turned up and played it better than us." Together they played like a drunken jam gone horribly right. The scatter-shot machine gun drumming, the fierce guitar and menacing rolling bass were the signal of a new spirit in Irish rock. Capable of inducing trance like spirit here and unbridled fury there, 'Meat Abstract' today sounds as fresh and vital as it ever did. The band got signed on the strength of that remarkable song; the rest as they say so often, is history.
They matured of course, they started writing lyrics but with 'So Much For The Ten Year Plan' there's a hint that early spirit is still there. Two new tracks, a super-charged rocker 'Fat Camp' and (lesser so) 'Bad Karma Follows You Around' are imbued with that same abandon that endeared half of Ireland to the band back then.
Live they were rabid. Fast, furious and, unusual for "dark" music, fun. Sadly these early days aren't dealt with in any huge detail with this retrospective. 'Potato Junkie' from the debut album 'Pleasure Death' makes an appearance though complete with its unforgettable assessment of Irish literature: the aforementioned "James Joyce is f*cking my sister." 'Potato Junkie' also contains that still chilling sample at the end. Sadly the compilers have decided to leave out 'Skinning Pit' but you can't have everything with one-disc compilations. After 'Pleasure Death' the major label beckoned and 'Nurse' (represented here with 'Teethgrinder' and 'Nausea') was the fruit of the first cheque. The band roped in their sound engineer as producer when they were offered, as Andy Cairns puts it "some big name grunge guys." It was a good move. Compare the sound of 'Nausea' or 'Teethgrinder' to 'Plush' or 'Piece of Pie' from the Stone Temple Pilots big league debut from the same era and you'll see what familiarity versus big name grunge guy sound can achieve. The lyrics throughout sounded like someone in therapy.
Therapy's next move was to abandon the wall of noise effect for crisper pastures of power punk and fiery diesel powered anthems with the EP 'Hats Off To The Insane'. Not fully represented here (although the superbly titled 'Screamager' turned up on it) it was the turning point for the band and was the carrot that led them onto their commercial peak with 'Troublegum'. 'Troublegum' is a strange album. At times blistering, at other times annoying it is rightly represented on 'So Much...' with 'Nowhere' and 'Die Laughing'. 'Nowhere' is pop-punk at its undisputed finest. Their fine cover (better than the original?) of Joy Division's 'Isolation' (another glaring omission from this collection) was an incredible moment for the band and the one that confirmed their progress into, what seems to be now, reluctant commercial pastures. They got to tour and record 'Iron Man' with Ozzy, albeit a transatlantic recording - Therapy in the UK, Ozzy in the US - for the Black Sabbath tribute album N.I.B. They even began to wear suits on stage, although they pulled it off with far more aplomb than Stiff Little Fingers did at the same time.
'Infernal Love' was the result of that too much too soon venture. A disjointed album on the adventures of love, lust, rape it was recorded too soon after Troublegum for many people's liking. Probably too for the drumming wonder that was Fyfe Ewing who left the band soon after. In their attempt to something different, they simply didn't do it too well. Two songs from 'Infernal Love' appear on 'So Much...' Although the Husker Du penned 'Diane' is a great ballad it just wasn't Therapy?, even if it's still probably one of the only string laden rape-murder ballads ever to grace the top 10. Stories sounded a bit too much like the Wildhearts (who were at that time impeccably better doing the same commercial thing) covering the Police and overall, 'Infernal Love' is a chapter in the band's ten years wisely represented by only two songs. Although surrounding the album the band were still huge, even appearing at Donington, 'Infernal Love' signaled the end of sorts of Therapy. "It was one of those kinds of albums loads of nonsense and mischief...what the f*ck happened there?" says Cairns of it today.
Even so, Ewing left; maybe his drumming didn't suit straightforward songs. Whatever, with his departure something went awry with Therapy. Where they should have made a balls of carrying on without him they returned semi decently with Semi-Detached. The biting 'Straight Life' from that album is included here alongside 'Church of Noise'. While Straight Life' can hold its head above water sounding like a new band getting comfortable with each other, 'Church of Noise' is just plain drivel. With this angry return, 'Straight Life' may well have been written about the departed Ewing, the record label (A&M) promptly folded and Therapy were for the first time in 8 years without a deal. "To be honest, that was the best thing that could have happened to us," says Cairns now, "we were getting lazy and uninspired and few people were helping us." Uninspired? Yes, but Therapy's bloody-mindedness was still very much apparent. This is even more so embellished with three stunning songs from last year's overlooked but stunning Suicide Pact - You First.
Gone are any traces of corporate, commercial moments and tricky playing. Back in comes a F*ck you attitude of the highest calibre. Cairns cites the album as a reclamation of control. He's right. It rocks. And the three songs included on 'So Much...' are stunning reaffirmations of what Therapy are. 'Six Mile Water' is a fine border ballad complete with some classic lines ("shit filled sandpit" and "we come from across the Border / we drink the six mile water") and a spot-on dodgy guitar solo, the sleazy Tom Waits meets a French jazz band blues of 'He's Not That Kind Of Girl' is a diversion to say the least while the biting 'Ten Year Plan' closes the album in fine style with the dirtiest riff this side of a Stooges or MC5 album. In the face of a shift towards dance, Therapy rediscovered that Midas touch that made their very earliest material so vital. "Just another company man" growls Cairns throughout. Thankfully Therapy will never be company men again. The two new songs here, live favourite 'Bad Karma...' and the stunningly sludgy yet together groove of 'Fat Camp', are further proof of this.
As a collection, 'So Much For The Ten Year Plan' is peerless. Even the bad songs sound good alongside the great ones and overall it represents a healthy look back at an, at times, not too healthy ten years. It also bodes temptingly well for the future. Cairns has said that he's "really got into it once more...I've completely fallen in love with music again" and on the basis of 'So Much...' we only thank our lucky stars that Therapy? are indeed back to cure us once again. Having witnessed them tear the roof down at Witnness this year the belief is very much added to. They were one of the undisputed highlights of the weekend and their live performance was brimming with the menace, the moves and the tunes that any one of ten dozen chart metal bands at the moment would die for. And that includes Manson and the rest of the "scary" rockers that obviously learned a trick or two from Therapy ten years back. Here's to the next ten years...
Ronan Casey