Supergrass
A review of their album 'Life On Other Planets'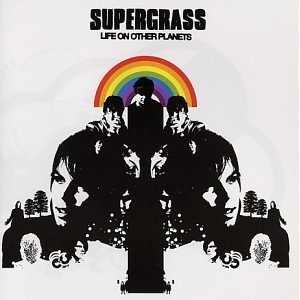 During the mid nineties, Supergrass were seen by many as the merry little pranksters of Britpop, chiefly due to their debut LP "I Should Coco". However, they were never comfortable with being classed as (a) Britpop, or (b) jokers. In all fairness to them, they were probably right. They remained one of the most underrated British acts, at a time when most were overrated. Supergrass arguably released one of the period's finest British singles ("Caught By The Fuzz", not "Alright") and best albums ("In It For The Money", not "I Should Coco"), but remained overshadowed by another Oxford band. However, they were uncharacteristically unfocussed for their eponymous third album. Rumours circulated that the band were experiencing writer's block. It is now three years since that last LP.
For "Life On Other Planets", Supergrass decamped to France with esteemed producer Tony Hoffer. The band has described this as more of a bonding experience, than a writing experience. What emerges is a more applied effort than the last record. "Life On Other Planets" carries the same core values as previous 'grass albums. That means this record includes retro influences galore. "Life On Other Planets" starts rather spacey before opener "Za" kicks in. It's a suitably glam rock affair, with the chorus even containing the line "get it on". More T-rexery on the next tune "Rush Hour Soul", which has one of those Supergrass guitar lines that you can hum along to. As Gaz sings on "Seen The Light", he is just a "rock and roll singer in a rock and roll band". Not doing much to dispel their clown reputation, this tune includes a bird tweeting and a sheep's baa!
Chances are that "Life On Other Planets" isn't going convert the masses. "Can't Get Up" is classic 'grass. Big choruses with wonderful harmonies are the order of the day. The space theme remains throughout with robotic sounds opening the punky "Never Done Nothing Like That Before". The best pop single of our late summer "Grace" contains lyrics that could only be sung by a man with sideburns like Gaz Coombes. His brother Rob's (now officially in the band) piano leads off some of the dumbest and cheeriest lines this year- "you ate our chips and drank our coke / then you showed us mars through your telescope". The chorus is typical Supergrass fodder and should be one to get the kids dancing! This is followed by "LA Song" which opens with an organ, before picking up some ska vibes and then moving into another wonderful chorus.
The most interesting, and perhaps the most important part of this record is the last two songs. Like the album's sleeve, Supergrass go all psychedelic. "Prophet 15" namedrops some deceased twentieth century icons like Che Guvera, Steve McQueen, Marvin Gaye and Oscar Wilde, giving an almost morbid feel to the song. The dark side of the moon is also visited on the remarkable closer "Run", which is the most spaced out tune you will hear this year. Coombes sings with a vocal reminiscent of Lennon at his most psychedelic. Lush spacey keyboards and strings are interspersed with a David Gilmour-like guitar solo towards the end. It is frankly the most epic tune they have ever recorded.
"Life On Other Planets" is a welcome return to form. It's an album that combines the old - the band's love of the sixties and seventies - with the new - the electronic and robotic elements. Supergrass' planet may be pretty strange, but it has just got very interesting. Definitely worth the wait.
Ciaran Ryan

Also check out the CLUAS review of the earlier Supergrass' album titled, er, 'Supergrass'