Richard Hawley
A review of his album 'Late night final'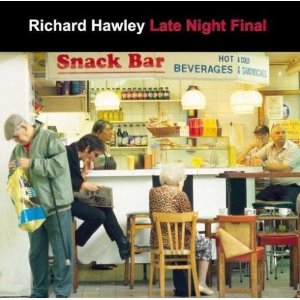 If Richard Hawley, formerly of Pulp and the Longpigs, were to appear in a movie he would have surfaced briefly in "Summer Holiday", playing a dissolute soak taken in for a while by Cliff, Hank, and Una. He would most likely sing a melancholic ballad, "Something is", "Late Night Final's opening track, and then slope off to an unknown destination.
In Richard Hawley's world it's as if the Beatles never existed. He writes pared down ballads that could have been crooned by the likes of Marty Robbins, Frankie Ifield, or, ideally, Roger Miller. 'Late Night Final's arrangements are simple and owe more to Norrie Paramore (BBC2 muzak legend) than John Barry. Hawley achieves the difficult task of walking the tightrope between sweet and sickly sweet, between sentiment and sentimentality. He is assisted, it must be said, by some guitar lines that Johnny Marr would die for.
Highlights are the aforementioned "Something is", the after-glowish "Love of my life", and the sublime "The nights are cold". "Cry a tear for the man in the moon" and "lonely nights" are duds, both of which find Hawley out of his vocal depth, but it's a relatively low failure rate.
'Late night final' does not push back any musical envelopes but it's a solid, assured, if slightly mannered long player.

See also the review of Richard Hawley's EP entitled, er, 'Richard Hawley'