Rae & Christian
A review of the album 'Sleepwalking'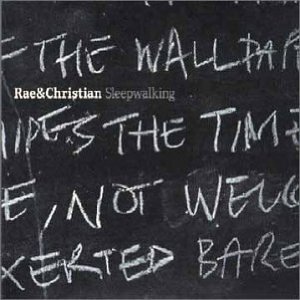 Rae & Christian's debut album, 'Northern Sulphuric Soul' was the most definitive confirmation of what was suspected of the Grand Central Records ethos, placing a UK soul/pop attitude at the very heart of US beats and rhymes. They made it clear they were dedicated to the art of songwriting; a skill blatantly missing from every corner of dance music. Consequently we were blessed with the Texas collaboration 'Hush' and Veba's amazing vocal on 'Spellbound'.
'Sleepwalking' is very much the older, grown-up brother. There are many family resemblances but stronger musical streaks run through its veins, showing a more refined maturity. What it lacks is the obvious hooks of 'Spellbound', but patience is rewarded and familiarity breeds fondness.
'Sleepwalking' is surprising in its choice of collaborations. 70s soul legend Bobby Womack steals the show on 'Get A Life' and his heart-cry to our generation, 'Wake Up'. Portuguese soulstress Tania Maria is given the 40-piece orchestra treatment for new song 'Vai Viva A Vida', sung in her native tongue, which oozes strings and tension. Working with the Pharcyde shows a move toward the musical and uptempo swing of 'It Ain't Nothing Like', and away from the New York style of rap with rhymes supplied by Imani, Booty Brown and Kriminul. One-time Aim sidekick, Kate Rogers graces 'Not Just Anybody' with coolness, as does Siron on the sweet 'Salvation'.
This is a collection of well-shaped and skillfully crafted songs. Even the two instrumental grooves are remarkable, with 'Ready To Roll' begging to be played in clubs right now!
Maybe the best way of showing how Rae & Christian's songwriting and production is streets ahead of their peers can be heard on 'Hold Us Down', a simple but dazzling tune featuring the voice and horn section of reggae greats, The Congos. Each collaboration on the album goes well beyond acting as a tribute to those involved, and instead highlights the possibilities open to producers who are willing to think further ahead and set themselves ambitious goals. Dance music can be so much more.
Robert Marshall

Check out also the review of Rae & Christian's 'Blazing the Crop' (a collection of remixes)