Rae & Christian
A review of the album 'Blazing the Crop' (collection of remixes)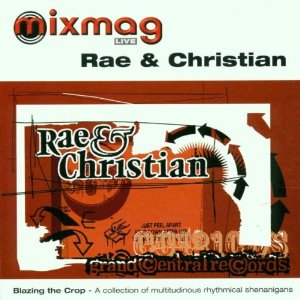 Back in 1991, mix tapes were illegal bootlegs, of poor quality, and were liable to chew up your tape player. Thankfully 'Mixmag Live' arrived to change all that. When they launched their first mix tape 8 years ago with Dave Seaman and Carl Cox, it was the first legal mix tape series and is at least partly responsible for the glut of cheesy 'Now Mix 99' compilations that fill the shops today. Mixmag Live, however has always avoided the obvious, eschewing the big name DJs in favour of more interesting, innovative artists. Recent releases reflect this with DJs as diverse as DJ Hype and Claudio Coccoluto making appearances.
The standard is kept up on their latest release with Manchester's finest - Rae and Christian - taking to the turntables. They released their debut album 'Northern Sulphuric Soul' to universal acclaim last year. Proving that a British act could lay down beats as well as anyone stateside, they also proved that a British act could get quality US rappers (Jungle Brothers, Jeru the Damaja, YZ) to work with them. What's more they did it on their own terms, releasing the album on their Grand Central label. Joining the dots between Hip Hop, Soul, house, jazz and Funk, it was possibly the finest dance album released last year. And that same quality is evident on this, their first mix CD. dropping US and British Hip Hop alongside Breakbeat, house and soul, it's the very eclectic nature of the release that sets it apart from other Hip Hop mix CDs.
The lads start off well, dropping their own 'Play On' with the jazzy breaks perfectly complimenting the Jungle Brothers lucid rhyming. Unfortunately after that things start to go downhill. Tracks like 'Porn Theatre Ushers' and 'the Constant Deviants' are no more then average and the mix does begin to lose momentum. Some inventive acappella mixing does help build it back up again and they reach a peak when they drop Face and Feline's epic 'For Claudia'. Staying on this side of the Atlantic, the lads play stuff from fellow Mancunians Aim and Mr. Scruff. They also drop their own 'Time to Shine' which, with its gritty breaks and atmospheric strings, is reminiscent of early Massive Attack. While the mixing is always smooth, it's never overdone and any scratching is kept to a minimum so the music always has room to breathe.
Upping the tempo again they drop some block rockin' beats in the shape of DJ Spinna and the Tuff Crew. This eases nicely into the ragtime House of Mr. Scruff's 'Get a Move On'. This track is sure to be huge and is one of the highlights of the CD. This builds up perfectly to the beautiful finale in the form of Northern Soul legends Young Holts Limited and their 'Young Holts Society'. That sums up Rae and Christian, bringing together the past and the present to create something new. Many try but few do it better. If you liked their album, you'll love this release. Northern Sulphuric Soul from the masters.
Conor Purcell

Check out also the review of Rae & Christian's album 'Sleepwalking'