The Mighty Stef
A review of his album 'The Sins of Saint Catherine'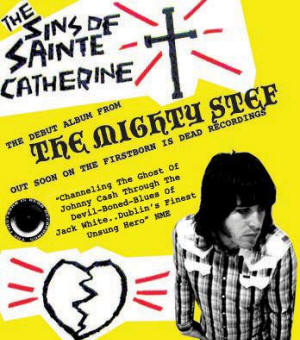 Review Snapshot:
I love this record. In the 3 or 4 weeks since I got it very little else has come out of any speaker in my vicinity. Sure it's far from perfect, but it manages to capture just some of the Mighty Stef's persona and put it across in 15 great songs. I've gone past objective, I'm in awe.

The Cluas Verdict: 8 out of 10.

Full Review:
The Mighty Stef has been a stalwart of the Irish music scene for many a long year, first cutting his teeth as part of The Subtonics, before going it alone and growing into the enigmatic entity that is The Mighty. Earlier this year he upped camp, leaving the dreary monotone of Dublin's winter before settling in Montreal. Armed only with a portable heater, a pair of fetching woolly gloves and a dream. His experience and those of the preceding years became "The Sins of Saint Catherine."

For those acquainted with his live shows, this record throws more than a few curveballs. Not all fiery punk? elements of country & western, the blues, and wistful melancholy are brought together and fused with that infectious reggae-like beat. "The Days of Wine and Roses" epitomises this, a tune so different from the live spectacle that at first it seems weird and uncomfortable, like a long lost lover throwing themselves back in your arms. A few whirls of the merry go round later though and all is well once more.

The songs on offer deviate from the exuberant brilliance that is "Prayer For the Broken Hearted," to the new and mature Neil Hannon tinged wonder of "21st Century" all culminating in the euphoric, affirming and signature "Whistle Song."

This album doesn't break any new musical boundaries, there are no 15 minute chicken squawk solos, no "the world has pissed on me even though I'm brilliant" introspection, just tunes. And bloody good ones at that. At times a bit more musical deviation might go a long way, a more fluid band could possibly bring more life and background drama. As it is this is a collection of excellent songs, steeped equally in the fine tradition that is The Stooges, The Ramones, Luke Kelly and Shane McGowan. No one can put it quite like Stef, no one says as much about Dublin, today, and no one can put the same melody on it.

These are tales of chancers, scumbags and sluts, of the drip and drag of the nine to five, of wanting to escape and being too f**ked up to do it. Melody, wit and insight bound together by a voice that breathes as much charisma as it does raw power.

Something special.
"The only time you feel even remotely alive,
Is when you're dancing on that crooked old stage?"

To buy a new or (very reasonably priced) 2nd hand copy of this album on Amazon just click here.