Lemon Jelly
A review of their album 'Lost Horizons'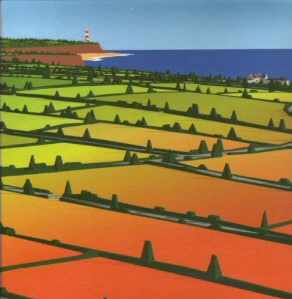 Nick Franglin and Fred Deakin are Lemon Jelly and "Lost Horizons", their second album, is a thing of rare beauty. Lazier music crits box Lemon Jelly off with Air, Kid Loco, and the Orb. In doing so they are damning this highly original band with the faintest of praise. Lemon Jelly's music is lounge devoid of muzak, it's jazz without the flannel. Above all else it's the band's impish humour that burnishes "Lost Horizons". This album is stylish, sleek, smoky, but most of all, it's fun.

"Elements" is the smooth opener on "Lost Horizons"- think of a loved-up version of the theme music from Raoul Dahl's "Tales of the Unexpected" and you get the general idea. Check out "Element's" doobie doo background vocals too, the best I've heard since "Walk on the wild side". "Spacewalking"s subject is self evident - over a playful, almost Dukes of Hazard style backing track you hear astronaut Michael O'Connor as he drifts out into the ether shouting "it's beautiful!" - you know he's right too. "Ramblin' Man" opens with a cod operatic take of Freddie Mercury's gruesomely awful "Barcelona". It then settles into a dreamy string arrangement, over which an amiable old buffer talks about travel. Before long there's a circular bass riff, the guitars reach the sky and our venerable buddy names exotic destinations he's visited. A pedal steel kicks in and by the time he mentions "Mandalay!!" your bags are packed, your tickets are booked, you want to run out and see the world.
"Return to Patagonia" has a rhythm track which is so slinky it's carnal, there's some sassy sax playing and to top it all off, a Russian male voice choir materialises from nowhere, sings its heart out, and disappears over the horizon. "Nice weather for ducks" pushes the envelope even further - for starters there's a children's rhyme, followed by an energetic Allman Brothers style guitar riff. The track then seamlessly mutates into a brass motif that Herb Alpert and the Tijuana Express would kill for.

Lemon Jelly's sonic pick and mixes may sound dizzying but this band are totally in thrall with their sound and the world they create. Their music is perfectly weighted, sounds are never used simply for their own sake, and Lemon Jelly don't get dragged down by indulgence or self regard.

There is not a weak track on "Lost Horizons". Buy it to remind yourself why you listen to music.