Laura Veirs
A review of Laura Veirs' album 'Saltbreakers'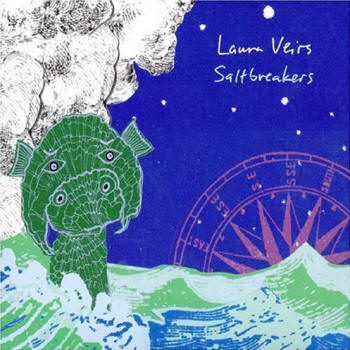 Review Snapshot:
Laura Veirs shows why she is in the company of Emmylou Harris and Steve Reich on her latest album for Nonesuch.

The Cluas Verdict: 8 out of 10.

Full Review:
I first heard about Laura Veirs when I attended the Kilkenny Rhythm and Roots Festival in 2004. At the time she was touring to support the release of her debut for marquee record label Nonesuch, the icily titled and highly acclaimed 'Carbon Glacier'. The word of mouth at Kilkenny was that she was a very talented songwriter but that her gig there had not been a great success, given that it was held in a busy pub during the afternoon. As a result, I overlooked her and that, my friends, was a mistake

'Saltbreakers', her third album for Nonesuch is a lovely record, and I don't mean that in the Father Ted sense. From the opening track 'Pink Light' where she confesses that, "With my swords out flying / Tattering my own sails / And I tattered yours too" to the album closer 'Wrecking' where she promises that, "We can do some wrecking here / Till a little colour / Comes into your face", the record chronicles three interlinked strands in her life. Firstly, the end of one long term relationship and the beginning of another, unanticipated one. Secondly, her move from urban Seattle to rural Portland. Thirdly, her continuing fascination with the natural world.
This third aspect is, for me, the most interesting intellectual aspect of her work because, in constantly using allusions and references to nature in her work, Veirs is in the tradition of Bucolic poetry that began with the Greek Poet Theocritus and carried on most famously by Virgil in the Eclogues. In a way, it's not surprising that nature plays such a strong part in her music as originally Veirs trained as a geologist whilst at College in Minnesota and the titles of her last three albums, 'Carbon Glacier', 'Year of Meteors' and 'Saltbreakers' itself all have a geological bent. In fact, the salt mineral is the key linking theme in the imagery of this record; the salt in tears, the salt in the ocean and the salt in sweat.

Veirs has long been placed within in the category of Americana or alt-country and this is again alluded to on 'To The Country' which was recorded in the studio at Johnny and June Carter Cash's cabin in Hendersonville, Tennessee but I would see her within the wider definition of Modernist American music which encapsulates Steve Reich, Philip Glass, Suzanne Vega, Laurie Anderson, Terry Riley and Richard Wagner. Here is an artist working with a primary interest on text and rhythm and focusing on both the macro and micro aspects of their inner and outer lives, placing themselves and their emotions within the wider context of the world around them.
Laura Veirs is a very fine artist; don't let her work pass you by.

To buy a new or (very reasonably priced) 2nd hand copy of this album on Amazon just click here.