Laura Cantrell
A review of her album 'When the roses bloom again'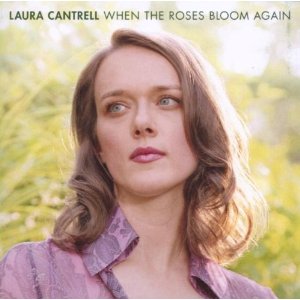 On the sleeve of "When the roses bloom again", her second album, Laura Cantrell stares into the middle distance, resembling a slightly fey, elfin Cate Blanchett. Who does she sound like? She's a country singer so she's no Shania Twain, but she's almost completely devoid of hard-nosed World Owes Me style cynicism so you can ditch the Shelby Lynne comparison. If she reminds me of anyone it's Lurleen Lumpkin - Simpsons' addicts will recognise Lurleen as the feisty cowgirl who took a shine to Homer and tried to wipe Marge's eye. Homer didn't bite and no-one knows why. It's not intended as a cruel comparison - Lurleen was pretty, open hearted, and could sing cowgirl's blues like a bird. Lil' Lurleen was a cartoon, but Laura's the real thing.

Rather like Lambchop's Kurt Wagner, Laura is a "suit" by day and a singer by night. She's in the music biz but not of it and as a result she's totally devoted to her muse -packaging and posturing are thrown to one side, and the music really glows as a result. At first listening "When the roses bloom again" is almost caricature country, it's awash with pedal steel and packed full of songs about country cousins, dusty highways and men who done Laura wrong. It's also engagingly flawed - Laura's voice is sweet and sometimes wavers with emotion, there are missed notes, the lyrics don't quite scan, but it's searingly confessional in parts.
The confessional gig only works if the artiste has seen dark days and on the evidence of her cover of "Wait", a highpoint here, Laura has suffered the dark and lonely nights. "Wait" is almost perfect-a tearful melody, a lyric that oozes regret, pain, and hurt. "Early years", with its chirpy South of the Border guitar lines, looks back on days spent with an old flame - the term "bittersweet" was invented for a song such as this. Better again, there's "Mountain Fern", a gorgeous down-home account of the life of a country crooner who gave her life to the Music and the Road. It could have been gushy but Laura so obviously recognises the trials of a fellow traveller that it works beautifully.

In the longer term it's hard to know what will become of Laura - the Hollywood scenario would have discovered by a bigwig impresario, given a makeover and a glam wardrobe, offered the best producers, and showered with money, fame, the whole nine yards à la Shania Twain. I think Laura's music is too good, too transparently heartfelt for all of that.

"When the roses bloom again" is engagingly honest, beautifully played, and impeccably arranged. If your record collection is going to have one country and western album make it this one.
Anthony Morrissey