The Kooks
A review of their album 'Inside In Inside Out'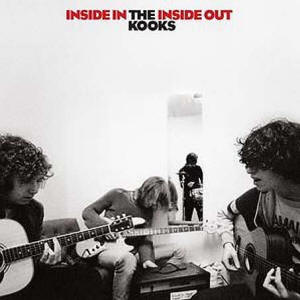 Review Snapshot:
The Kooks produce a debut album packed with pop classics, but is not without its flaws. Its fun and charm is reminiscent of early Supergrass.

The Cluas Verdict: 8 out of 10.

Full Review:
The Kooks arrive at a time when indie bands have become truly mainstream and fashionable. However something sets these boys aside from the majority of their contemporaries - they write cracking pop tunes. They do so in a way that Supergrass used. They make you smile and be happy to be young and healthy. It's a record that you imagine yourself sitting on the green grass in summer whistling along to with your friends. Sadly, it's freezing lately so no chance of that. The lead singer, Luke Pritchard, may have famously dated Princess of bland Katie Melua but lucky for us, she has had little influence on his musical leanings.

The album starts off with a lo-fi acoustic number. Odd choice to start the album with. It fails slightly in catching the listener's attention, but still, it is a good wee number. It's on See The World that this Brighton quartet show their real strength. It's a prime example of rock/pop. Ray Davies would be proud of this. They follow this up with 7 other potential singles. It's when they use the acoustic guitar that the songs seem to be lifted up a gear and really brought alive. In the age of the gloomy singer-songwriter it is encouraging that the acoustic guitar can still be used so expertly for pop. By the ninth track they seem to have perfected the pop song. "Na?e", if released, should break them into the mainstream, if not, well, shame on everybody.

Sadly the album takes a turn for the worse and becomes a chore on the last two tracks which succumb to self-indulgence. This is perhaps showing their inexperience when it comes to quality control but they have plenty of time to learn (the guitarist recently celebrated his seventeenth birthday). Even so, a producer should have over-ruled them because they somewhat tarnish what is otherwise a solid record. Kooks have promised to change direction (saying that they don't understand the concept of finding a sound and sticking to it) but after examination of these closing tracks I have my reservations as to whether changing direction would be a wise decision for this band. However by all means prove me wrong boys.

This is an album that has summer written all over it and, honestly, I fail to see the commercial sense of releasing it at the tail end of winter but at least it has brought a ray of sunshine into these dreary days. They said that they wanted to create quick pop classics. Well lads, congratulations, you've done it, now get yourselves ready for the festival season because something tells me that you will become the soundtrack to our summer.