Kings of Leon
Review of their EP 'Holy Roller Novocaine'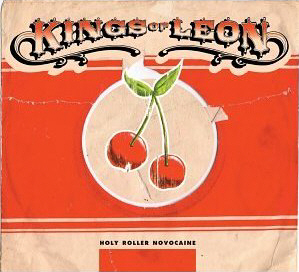 Retro rocking has rarely looked or sounded so good. Britain seemed to be league leader in producing retro-ists but in the past two years US record labels have proven remarkably adept at packaging up old American marquee fillers in new faces. The Strokes are probably the best example of a sound and a personality that would look remarkably home in a teenage Lester Bangs notepad. Black Rebel Motorcycle Club, for all their brilliance, strike a pose that's self-consciously 70s while their guitar tabs are positively psychedelic.
Rock kid haircuts are staying positively Almost Famous, the jeans and scruffy tight t-shirt remain. Perhaps it's a progressive thing, and perhaps it's another manifestation of younger musicians deciding there's nothing worthy of a reference in the contemporary hit parade. Latest, and most potently, into the fray are Kings of Leon, a quartet of young Tennesseans. This band's a Followill family affair: three brothers Caleb (lead singer, rhythm guitar), Nathan (drums), and Jared (bass) are joined by lead guitarist and first cousin Matthew Followill. The name is also familial: "Leon" is the name of both the Followills' father and grandfather.
Leon Jnr was a United Pentecostal evangelist who brought his family up on the road between Oklahoma City and Memphis. A taste in rock and soul records and an enlightened approach to teaching produced him a family of road-hardened rock stars.
According to their label blurb writers Kings of Leon songs "teem with primal emotions and rangy rhythms - noise sensed as sanctuary, friction felt as release, honesty jumped on for all it's worth because it's the only bankable road to salvation." Ahem, like hell.
The vocals are deep and half high-school geeky but make an impression pretty quickly. 'Molly's Chamber' isn't as strong a tune as it at first promises to be. Swerving back and over the highway, the pedal only goes down on this machine in the second half of the song, with fleshy guitars and a hooky beat. Far better is the next song up, the more laid back and less stilted 'California Waiting'. "Can I get back my lonely life" is Caleb's plaintive cry as guitar chug along and a soft drum focus build the tune up to something utterly likeable.
It was at their Dad's church in redneck Mumford, Tennesse that the boys from 1986 until 1992 started playing music. Pentecostal church music is lively as church music goes and the boys picked up the organ, piano, bass, drums, guitars and horns. Their church back ground is patently obvious on 'Holly Roller Novocaine' with its preachy, chanty chorus. The effect the band strikes up here comes off like a gospel-laced Rolling Stones: not an unlikely cohabitation considering the Stones' blues roots. It's a fine slice of foot stomping blues boogie and should be the ace that levers The Kings of Leon onto the main stages of Europe's summer festivals.
They've got the look, they're no slouches in serving up some delectable guitars so Kings of Leon could do quite well for themselves in the current fashion trends among rock's younger fans. No wonder that Led Zeppelin, the Stones and Tom Petty should rank among their top influences, scattered through some soul names like Al Green. But what Kings of Leon lack is the lyrical nous of any of the afore-mentioned. They are of course still underage debutants to a proper studio and that shouldn't hold them back in a music market that currently favours the mix of rock psychedlia and chiselled Strokes cheek bones.

Feel free to discuss this review on the CLUAS Discussion Board.