Jay Farrar
A review of his album 'Sebastopol'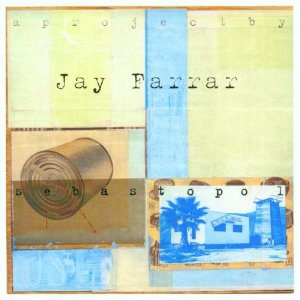 Late 1998/early 1999. Uncle Tupelo spin-off bands Son Volt and Wilco released albums within a few months of each other, "Wide Swing Tremolo" and "Summer Teeth," respectively. The general critical consensus at the time seemed to be that Jeff Tweedy, the brains behind Wilco, was the Uncle Tupelo alumnus who was really stretching out his sound, taking risks, and moving away from the alt.country movement that Uncle Tupelo single-handedly started - and that this was a good thing. "Summer Teeth" was stylistically light years away from Uncle Tupelo's Louvin Brothers-Gram Parsons-Creedence-R.E.M.-derived goth-country, instead embracing Beatlesque orchestral pop and even 70s prog-rock. Meanwhile, "Wide Swing Tremolo" made it seem as if Jay Farrar and Son Volt were stuck in a rut, making album after album of fairly excellent, yet strictly traditional, sombre, and colourless country-rock.
Now it's 2001 and the tables seem to have turned. Farrar has just released his first solo album, "Sebastopol," and I'm pleased to say that it is a success and, for Farrar, somewhat of a departure. Whether Son Volt still exists is anybody's guess - Farrar, typically, hasn't said. Meanwhile, Wilco quit or was fired from its label, Reprise, because the group's new album, "Yankee Hotel Foxtrot," was deemed too uncommercial for release by the label (given the massive success of Radiohead's recent work, this leads one to wonder how exactly the folks at Reprise define "uncommercial" nowadays). Adding injury to insult, Wilco's guitarist Jay Bennett and drummer Ken Coomer have both left the band. Quelling breakup rumours, Wilco are soldiering on with a small U.S. tour this autumn, and are shopping around for a label to release "Yankee Hotel Foxtrot."
Given Wilco's troubles, Farrar definitely seems to be riding high at the moment. "Sebastopol" takes the Son Volt blueprint and adds extra instrumentation (piano, synths, saxophone) and even moves away from the country sound, while still remaining unmistakeably "A Project By Jay Farrar" as the CD jacket announces. Anyone who is a Son Volt fan will probably love it. Drummers Jon Wurster (on loan from Superchunk) and Matt Pence add real punch to the Farrar sound, and Steve Drodze on keyboards greatly expands Farrar's musical palette. Farrar plays most of the guitar parts himself, and he really shines on "Different Eyes" (it's absolutely gorgeous) and the bluesy "Damn Shame." Gillian Welch and her partner David Rawlings, fresh from Welch's success with the "O Brother Where Art Thou" soundtrack, guest star on "Barstow" and add their usual quiet excellence to the song. "Feed Kill Chain" is the album's centrepiece, with its layered keyboards and driving rhythm. My favourite song, though, is "Make It Alright," a typical slow, wistful Farrar dirge, which is of course what he is best at. "Outside the Door" reverts to the more familiar folk-country sound. My copy of the CD contained three bonus tracks, all of which are good, especially "Vitamins."
I started to take Farrar for granted around the time of "Wide Swing Tremolo," but I won't make that mistake again. "Sebastopol" is a good reminder for me of how lucky we are to have an artist of Farrar's calibre around. As a friend of mine succinctly put it, "He does what he does." He'll probably never forsake the Midwest for Los Angeles or New York. He'll never marry a model. He'll probably never win a Grammy award. By the time he's old enough to be inducted into the Rock and Roll Hall of Fame, the generation that founded that institution will mostly be dead and the Hall itself hopefully will have descended to the utter irrelevance it so richly deserves. But Farrar will no doubt still be making album after album of fairly excellent, yet strictly traditional, sombre, and colourless country rock. And I'll still be buying them.
Chris Houlihan