The Frank and Walters
A review of their album 'A Renewed Interest In Happiness'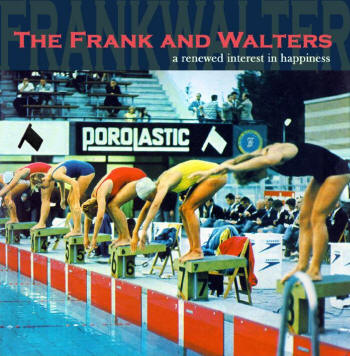 Review Snapshot:
This was very much an album that Cork indie heroes the Frank And Walters had to make. On this their first new album since Glass in 2000, the Frank's have created an album of depth with a meatier sound, that while still resonating their uncanny warm melodies features some more unexpected musical influences that set this offering apart from their previous outings. A well-rounded album about life, love, despair, resurrection and ultimately regeneration.

The Cluas Verdict: 8.5 out of 10.

Full Review:
All of the Frank And Walters albums have showcased strong emotions but A Renewed Interest In Happiness is possibly the most uplifting of all. The album was written during a period of mixed fortunes for the band that saw a lot of changes. This is their first album since drafting in lead guitarist Kevin Pedreschi replacing the departed Niall Linehan. It is also their first new album to be released on FIFA Records.

Opening track 'Fight' was recorded in Dublin's Wheatfield Prison early last summer and as the opening lyrics, 'Walk out into the sunlight, it's a new day, it's a new life', imply, lead singer Paul Linehan is not just talking about the redemption of incarcerated prisoners. 'Fight' offers a broad metaphorical appeal for those who seek solace from hard times.

Musically the second track 'C'mon' sounds like a return to the sound of the band's debut album but with a more mature lyrical outlook. 'Miles And Miles' the group's recent top thirty single is an uplifting reflection on the facts of life and childbirth.

With a punk rock style intro, Country Boy is a bit of a departure marking a new confident, aggressive and darker side of the Frank's. By contrast 'Learn To Love Myself' is a gentle reflective number about the importance of self-knowledge and self worth. Thankfully 'Keep The Faith' bears no resemblance to the Bon Jovi song of the same name. Instead, the listener is sucked into a rock n roll hymn, which lyrically tells us of the importance of hope and good karma. On track ten 'You're The Greatest' the Frank's again display a harder and more forceful sound complete with an infectious groove thrown in for good measure. While on the slow acoustic closing track 'Johnny Cash' Linehan sings a soulful lullaby like homage to Johnny Cash and 'lonely men'. The album even comes complete with an enchanting ghost track 'Change My Way of Thinking'.

Reunited with producer Dave Couse who produced their excellent second album Grand Parade, A Renewed Interest In Happiness reveals a more mature, reflective and diverse sounding musical beast, proof that this group have not lost their lust for life. Looks like Frank's still right!
Mark McAvoy