dEUS
A review of their album 'No More Loud Music: The Singles'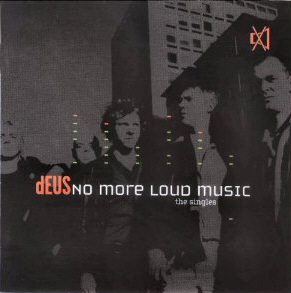 They were known by the the sight of their moniker on every know-all's school bag. They were the first Belgian indie act ever to sign to a major international label. And they made good music, judging by this collection of the singles released so far. They are the improvisational avant-grunge group dEUS. Originally comprised vocalist/guitarist Tom Barman, bassist Steff Kamil Carlens, drummer Julle De Borgher, violinist Klaas Janzoons and guitarist Rudy Trouv. Flemish boys all, dEUS began their career as strictly a cover band, but soon began performing new material, honing an irreverent, free-form live show that owed influences to folk, punk, jazz and prog-rock.

After issuing a four-track EP titled Zea, dEUS played a string of London gigs which convinced Island Records to sign them. The group's 1994 full-length work 'Worst Case Scenario' was cheered, with especial acclaim going to the singles "Suds and Soda" and "Via." After planning to produce their own pornographic film, the Belgians instead released 'My Sister, My Clock' in 1995. From there on the group was split by side projects however, with Carlens and Trouv being replaced by Craig Ward and Danny "Cool Rocket" Mommens for the 1997 album 'In a Bar, Under the Sea'. The latter's dreamy, watery instrumentals straight out of the Cure's songbook were mixed with a whole gamut of vocal ranges and textures. It wasn't for the first time the group would be compared to similarly eclectic all-takers The Frames, but it was doubtless the two were drawing from the same well.

On the track 'Roses' the band's pulverising, unrepentant drive still manages to be rhythmically compelling. Not for the first time, dEUS prove they know how and when to use melody. The songs, penned by Barman, are long, often rambling affairs but are infused with an energy and sincerity that's hard to argue with. Visually, the band always looked a sombre, intense bunch, carrying (unconsciously perhaps) some luggage of their divided country's sense of inferiority with itself. The inferiority is of course unwarranted but sandwiched between greater imperial powers, hard to avoid.

They may well be the first Belgian-based indie act ever to sign to a major international label, but dEUS formed in Antwerp in 1991 as a cover band playing marquees and teen discos. Always improvisational, their roots are sometimes evident in the exuberance of the band's performances. Described in those Nirvanaia days as avant-grunge, when they turned to performing their own material dEUS self-consciously opted for an irreverent, free-form live show that plucked its influences from across the board, from folk and punk to jazz and prog-rock. Violinist Klaas Janzoons strode the centre stage in the best dEUS moments, lending the music the life and soul of a South Carolinian barn dance.

Other tunes see the band incorporating goth tidbits, melodic alt-rock strains and soulful funk-metal groove into a landscape of sonic savagery. 'Suds and Soda' from 1994, the 1996 track 'Roses' and 'Instant Street' from 1999 are the stand out tracks on this collection, and are so arranged as to show the progression of the band from glorified buskers to international players. The new song on the album, 'Nothing Really Ends', was produced last year and is a helpful indicator of what dEUS were possible of if they stayed together.
Confusing, disturbing, but always potent, always melodic, dEUS could have had a great time together. Their brand of music would never fill stadiums, but who wants that if you're having fun?

Check out the original setlist from a dEUS concert in Dublin back in 1999.