The Bush, the Tree and Me
A review of their album 'How to Get Home'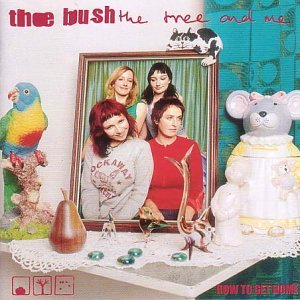 They're named after the punchline of a favourite joke and they've been championed by Blur's Graham Coxon. These two little biographical details have so far been well squeezed by record company press handlers to describe an unknown quantity they put much faith in, Sony Music having signed the group on the basis of little more than promise and good looks it seems.
Now this have delivered their first album and the faith seems warranted, for the most part. An all-girl, twentysomething outfit looking very Bridget Jones in their cover photo, the band is Paula Cox (vocals), Belinda Cullen (guitar, vocals), Natalie Barowitz (clarinet, keyboards, vocals) and Emma Bell (cello, bass, vocals). The combination of instruments and Cox's Cockney vocal style have gelled into tunes harmony laden, dreamy, and reflective. The mix of instruments and the vocal style make it very hard to write up any identity card for the group however. Does the music go under indie, folk, pop, classical...? A cross-pollination of the lot, we'll settle for. The instrumentals and female line up have gotten the group compared to the Corrs but this group is much more oddball and jagged about the edges to carry the comparison.
Cox's vocals have curiously been compared seperately and collectively to a trio of Irish-related females: Harriet Wheeler, Dolores O'Riordan and Sinead O'Connor. The Irish connection has also been stretched with with the album's producer Stephen Street being he who produced the first Cranberries album. The production values are comparable, but Cox's vocal line has yet to match that of Dolores O'Riordan - or of Sinead O'Connor for that matter - in power or distinctiveness.
The stand out track on this record is '(Sometimes) You Do That,' a quirky lyric doused with haunting clarinet and fast strumming. The rest of this largely acoustic lot, dealing in friendship, love and sex swing from the soft balladry of 'More Than I Could Ask For', to the Kinks-quality Brit popness of 'You.' The band return to folk duties then on 'Wishing I Was Little,' the best of the rest of the album.
Consistently inconsistent, this first effort by The Bush, the Tree and Me presents works of playful pop/folk/indie genius alongside a few bumbling atrocities, as if the songwriters became distracted midway and lost sight of what makes a great song tick. Despite the thousand angles to their work, The Bush... do manage to remain compelling listening. The band has great promise, but to achieve the type of success they're capable of, this quartet will have to decide more concretely on what it is they want to do while trimming and consolidating the fantastic array of possibilities they've already got going here.