Bruce Springsteen
A review of his 3 CD compilation album 'The Essential Collection'
Bruce is Boss, but he's not shy of turning a few million dollars. He's got enough steaks in the freezer, and a warehouse of odds and ends from which to pull together a packet of rarities. Fans of the man will already have all the material on the first two disks. The third is the selling point, a dozen rarities and covers.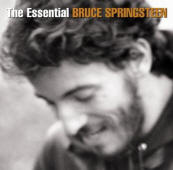 CDs one and two can be sold as a fairly realistic summation of the best of Springsteen's recorded work. Various fans will differ, but that's not the point. There may be a decent market for the entire package among newcomers to the Springsteen - his last album, The Rising and its subsequent tour will have recruited plenty - but most buyers will go straight into disk three.

It's reassuring to see that live versions of two of his best later songs, 'American Skin (41 Shots)' and 'Land Of Hope And Dreams' are included on disc two. The former will at least continue to infuriate New York City cops, who pulled the customary police escort from Springsteen after he played the song at one of his Shea Stadium shows earlier this year. It's a powerful song, whose repeat chorus has done more against police brutality than a quorum of ombudsmen could have achieved.

And disk three? Most of this stuff will be unfamiliar to casual fans but almost all of it is new to album collectors. The disk opens with 'From Small Things (Big Things One Day Come)', followed by 'Big Payback'. They're knock-about tracks that, like several from the Tracks box-set, are however better than some of the material chose for Springsteen's releases in the early nineties.

Better however are the live recordings. Springsteen live is a great listen, for all of his nervous-shy-homely sincerity. 'Held Up Without A Gun' is the first of three live tracks on this recording. 'Trapped' and 'Code of Silence' are the other two and none disappoint. Best of the rest are 'None But The Brave' and 'County Fair' while Dead Man Walkin' is a familiar calling card from solo Tom Joad days before a final reminder of Springsteen's fable-telling power when he stands alone with his guitar. That track is 'Countin' On a Miracle' and it's powerful evidence that Springsteen alone is best left alone if he's not plugged in with the E Street Band, because hired hands on his other work just doesn't sound as compelling and lacks the excitement and energy that's palpable when the Boss stands between Clarence Clemons and Steve Van Zandt.

It's a common worry of fans that one night Springsteen and the E Street Band will walk from the stage and that will have been it. If that does prove to be the case anytime soon, this will be another good reason for Springsteen's claim to the throne. In longevity, quality and influence, he's arguably the best all-round musician the United States has produced. At his peak he has eclipsed Bob Dylan's better work. And he's created a legacy: David Gray, Ryan Adams and Bono are just three of the artists who've credited him with inspiration.

It's not clear if Springsteen himself collaborated in putting this package together. He's the latest in the line of artists which Sony have centred a best of collection around. Johnny Cash's best and rare songs were last in the series. Cash himself was an admirer of the Boss, and the admiration was mutual. Springsteen's 'On Fire', included here, sounds more like a Cash song than anything else on this collection.

Mark Godfrey

Chekc out a review of Bruce Springsteen live in Los Angeles in 2002.


Check out a review of Bruce Springsteen live in Dublin in 1999.


Click here for a review of Bruce's album 'The Rising'.