Black Rebel Motorcycle Club
A review of their 2002 released self-titled album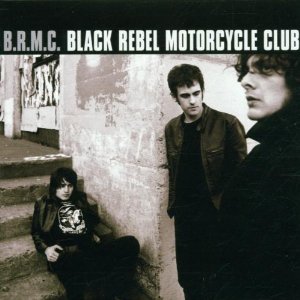 With this album, it seems that great rock 'n' roll bands are like CIE buses: you wait so long for just one and then loads come along at the same time.
But BRMC have taken a very different route from their associates (The Strokes, The Hives, The White Stripes). The above bands, while fantastic, seem to draw on the same set of influences, namely The Stooges and The Velvet Underground. While BRMC wear their influences almost as brazenly, their sound is miles away from New York or their native California.
BRMC have managed to achieve that sound which eluded many a British indie band: great songs being teased out of a wall of noise. The more one listens to this album, the further away from America it seems to go. This is a dark, dark album mixing intense psychedelic sounds with that great trick of their heroes: morbid subject matter but no whining.
Without wishing to dwell on their influences, it's hard to ignore them. Robert Turner's bass playing has the same kind of innovation that Peter Hook (Joy Division) made his trademark. The best rocker on the album, Whatever Happened To My Rock 'N' Roll (punk song), would have been at home on My Bloody Valentine's 'Isn't Anything'. The finisher, Salvation, has the same spaced-out vibe as The Verve in the early 90s when they were a drugged-up four-piece known only as Verve.
But this isn't fair to BRMC. The strength of this album ensures that they won't be known as rip-off merchants. Love Burns, the opening song and the second single, has that old rock 'n' roll theme, i.e. losing the woman, but has the striding confident sound that so many guitar bands strive for but just end up sounding annoying.
This is an excellent rock album. When it's loud and angry, the tunes are great (Rifles, As Sure As The Sun, Red Eyes And Tears). On a quieter tune like Salvation, the strength is still there. Even when BRMC mock Jesus Christ, it sounds great ("I'm the kinda guy that leaves the scene of a crime" - White Palms).
The music world may have been expecting a flurry of Strokettes this year since the dominance of the New Yorkers at 2001's end. Instead, this has been offered. It's only February but BRMC are already one of the bands of 2002.
Donal Griffin