The Hives
A review of their album 'Your New Favourite Band'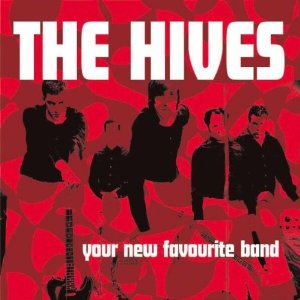 This is a "best of" album of sorts featuring songs from the Hives 2 previous LPs and 1 EP. It was no doubt put together in order to have some new product to help the Hives cash in the current popularity of similar garage rock/garage punk bands, namely The Strokes and The White Stripes. Well, better they do that than run into the nearest studio and hastily slap together a brand new LP before this current craze dies down.
The Hives' style of music is obviously not entirely new or original and owes a lot to punk innovators The Stooges and The Ramones. Loud gritty guitars that sound like their players haven't cleaned the dirt from under their fingernails and shouty vocals are rife - the record is full to the brim with attitude and energy. The Hives sound very similar to their contemporaries The White Stripes. In fact when I heard "Main Offender" (on that banned ad with Kylie in lingerie) I was convinced that it was The White Stripes.
The songs may be simple and somewhat derivative but they are damn good and an awful lot of fun. With the opening track "Hate to Say I Told You So" The Hives kick your door in and proceed to bounce and down on your couch. They manage to keep this energy going for the entire album. "Main Offender" is a brilliant track as are "Die, All Right!" and "Untutored youth". There isn't a song on the album that lets the side down.
Those of you out there who hate The Strokes and The White Stripes will more than likely hate this too but in my opinion the only thing wrong with this garage punk rock revival is that it ever went away in the first place. This is a great album especially for a party and you've got to admire the cheekiness of the title.
Niall de Buitlear

Check out the CLUAS review of the Hives live in Dublin in September 2004.