Brian Kennedy
A review of his album 'On Song'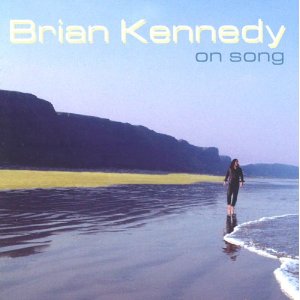 Any time any 'contemporary' singer announces that he/she is going to release an album of Irish 'standards' because they've 'always loved them you know' or some other guff, it is cause for grave concern. If we were in paranoid America it should be reason for a Code Orange (or whatever ridiculous propaganda tool they're using now). And after listening to this album from Van the Man's former muse and sometime tourist attraction Brian Kennedy, a call has to go out to stop this torture of our native song. We have to send a message to the record buying public and for this we have to install a coded warning system which warns us that a butcher is about to unleash an album of mass destruction.

'On Song' is the album of the 'why did they make that?' TV show, a dire half hour or so which saw millions of responsible Irish citizens taking the dog for a walk when it was on. The show saw Kennedy 'rediscover' his roots with the aid of such luminaries as Sinead O'Connor, Paul Brady, The Dubliners, Ronnie Drew and actor Adrian Dunbar. They are roots he should have left alone as he has about as much a grasp of an Irish song as Saddam Hussein has.

Teasingly, it starts promising enough with the Sinead O'Connor duet 'I Dreamt I Dwelt In Marble Halls' but once Kennedy starts to warble the listener is reminded of the proverbial drunken aunt singing at a wedding. O'Connor somehow cameos as your drunken uncle who won a load of medals in the 1950 Leinster Fleadh but, bad as it is, it's easily the best song on the album. However, from here on in it's downhill all the way. And quite rapidly so.

'Mountains Of Mourne' is hacked to pieces and surely contains the worst drumming ever committed to tape. The Paul Brady aided 'Homes Of Donegal' sees the duo do their best to scare the shite or deafen anyone who listens to it. There was once a great story about a Ted Nugent concert in America where the legendary rock guitarist had the volume cranked up so loud, a bird who passed by the speaker was disintegrated. Well, if a herd of cattle passed the speaker when Brady and Kennedy are howling and wailing at the moon they'd be turned into minced meat in an instant.

'Dirty Old Town' starts with a promising jazz shuffle which is then destroyed by Kennedy's unique blend of patented Las Vegas style 'sincerity'. Tellingly, there is no vocal credit on the sleeve for this particular musical crime. 'Margaret Barry Broke My Heart' is passable, the kind of music that wouldn't sound out of place in a souvenir shop in Knock, but it's followed by another duet, this one with actor Adrian Dunbar. If there's one thing that's well known in music circles, it is to never let a bad actor in front of a microphone. This is proved with ease here as Dunbar gives an out of tune performance that must rank as one of the worst ever heard.

And so on and so forth. 'Whiskey In The Jar' is worse than you can imagine and Kennedy really should have studied the interpretations of this classic done by such bands as Pulp or Metallica before giving it his own 'flavour'. 'The Fields Of Athenry' is strung out for six minutes making it the perfect sadistic torture song for depressed Glasgow Celtic supporters. Then comes the unspeakably drippy brace of 'Raglan Road' and 'Carrickfergus' followed by 'I'll Take You Home Kathleen' which, if you heard Kennedy sing at a wedding where the bride was called Kathleen, would be ironically nice but not enough to take your mind off the decision to have beef or salmon at the reception. The rest of the album - and there's loads more to go, there's a whopping 17 tracks here - is just as bad as the above mentioned songs and really isn't worth going into any further detail on... What it all proves is the tragic turn Kennedy's career has taken since his radio friendly MOR debut album back in '96.

To put this blarney of an album in any form of modern context, if Ireland was ever go to war or if we're invaded for our potato and barley stockpiles - and even Hans Blix would agree with this - Brian Kennedy's 'On Song' is our smoking gun. Please God, no more. Leave our native songs as they are... 'On Song' should have been 'No Song' and let it act as a warning to any singer contemplating a return to his or her roots.
R Casey

To buy a copy of this album on Amazon just click here