A Lazarus Soul
A review of the album 'Graveyard of Burnt Out Cars'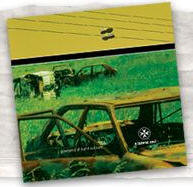 Review Snapshot:
On first listen Graveyard of Burnt out Cars offers a bleak, hopeless view of life within the soft underbelly of a teenage Celtic Tiger. Yet the more one listens to A Lazarus Soul's second record, the more one senses that Brian Brannigan isn't actually mourning a wasted youth. Instead this, often brilliant, album celebrates the (relative) innocence of petty crime, compared to the blood red headlines that seem to colour today's news.

The Cluas Verdict: 8 out of 10.

Full Review:
Described in at least one publication as an "indie supergroup" A Lazarus Soul comprises Brian Brannigan (ex Sub Assembly), Fin O'Leary (ex Mexican Pets), and Anton Hegarty, Bryan McMahon and Joey Wilson of Future Kings of Spain. Having been around since 2001, their first offering, A Lazarus Soul Record, did little to excite, despite fervent live show's indicating the quality of that albums songs.

However, on Graveyard of Burnt Out Cars Brannigan and Co. excel themselves. A sometimes apocalyptic, often stunning critique of Dublin in the 80's and 90's, this album manages to convey a sense of there being a very large black hole at the end of a floodlit tunnel and yet still allow the listener to walk away smiling.

On album opener Icon we're told that "In the Kingdom of the conscience it's the ignorant are Kings" and that theme resonates throughout the rest of the album. Turn a deaf ear to the voice in your head and you can find yourself doing just about anything. On Stray Bullet, Brannigan submits to the qusi-heroworship associated with joyriding, "I feel so high, a satellite in the Northern sky, accelerate through these estates, like I'm driving for my life."

It's on both the title track Graveyard of Burnt Out Cars and The Day I Disappeared that A Lazarus Soul reach their brilliant best. If recent news that Bernard Sumner and Peter Hook have decided to no longer work together proves to be true, it wouldn't surprise me if these songs were the reason. Graveyard... marries the central theme of the album "What we fail to see, is our tidy town today just may well be the bloody ghetto of tomorrow." with haunting keys, and crashing guitars, Joe Chester adopting the role of minister (or priest, or indeed Elvis impersonator depending on your persuasion).

A Lazarus Soul's influences are even clearer on The Day I Disappeared, Bryan McMahon devising a hook (if you'll forgive the pun) that Joy Division would be proud of. "The Liffey filled with tears, I believe, the day I disappeared." sings Brannigan, and on this form, it probably would.

A fascinating body of work, Graveyard of Burnt Out Cars should be the launching pad for bigger and better things for A Lazarus Soul. How an album written from deep within the underbelly of the Celtic Tiger can be so enjoyable is a testament to desire of the band to produce great music. Without a doubt the best album I've heard so far this year.