Cluas Gigs of the Fortnight
The best gigs across Ireland during the period 12 - 25 March 2007
Gig of the fortnight is........ Andew Bird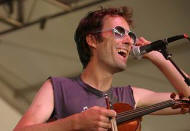 Where and When?


Crawdaddy, Dublin - 19th and 21st March


Roisin Dubh, Galway - 20th March

Why? Chicago born singer/songwriter/guitarist/violinist/whistler has been releasing wonderful albums for the past decade or so, the most celebrated of which being 2005's Andrew Bird and the Mysterious Production of Eggs. He's got another new album out later in the year and will be previewing material from it at these dates.


Best of the Rest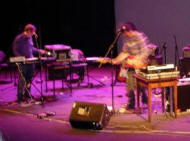 Who? Si Schroeder

Where and When?


Crawdaddy, Dublin - 14th February

Considering the fact that the odds on Coping Mechanisms started out at around 25/1 and eventually shortened to make him the second favourite for the Choice Music Prize perhaps the only people happier than Neil Hannon that he won the award was the nation's bookmakers.

Who? !!!

Where and When?


Roisin Dubh, Galway - 16th March


The Village, Dublin - 17th March

Let's get the obvious question out of the way first. It's usually pronounced 'Chk Chk Chk' although 'Pow Pow Pow', 'Uh Uh Uh' and 'Etc Etc Etc' are common varients. The name was inspired by the subtitles from the film The Gods Must Be Crazy , where three clicking sounds of the mouth were represented as !!!.

Formed in 1996 after the demise of hardcore band Yah Mos !!! were formed with the intention of making more danceable music and have two albums to their name.
Also this fortnight:
Brian Ferry

Vicar St., Dublin - 24th March

Cathy Davey

Roisin Dubh, Galway - 15th March


Cyprus Avenue, Cork - 18th March

The Immediate

Whelan's, Dublin - 22nd March

Lucas

Roisin Dubh, Galway - 25th March

Brendan O'Shea

Whelan's, Dublin - 12th March


The Crane, Galway - 13th March


The Ross, Killarney - 15th March


CLUAS 'Gigs of the Fortnight' is compiled and edited by the CLUAS listings editor, Ian Wright.


Check out previous CLUAS 'gigs of the fortnight' chosen since this section was started back in 2004.