"Do you take bikes?" (part 2 of 2)
These roads often behaved unexpectedly. On one occasion we found ourselves cycling along field margins and then between rows of vines after the road we were following had degenerated from gravel to earth to grass - leading us through a succession of tiny hamlets and brightly shuttered houses clustered round a central church. Elsewhere the road disappeared up a hillside so steep it seemed unwise to attempt it on wheels, as the tractor in the neighbouring field beetled uphill in reverse to allow it to then plough down the near-vertical slope.
When we arrived, the narrow streets and steps of Siena were filled with shivering tourists unprepared for the sudden cold. Hot chocolate and cappuccinos were clasped by cold hands in pavement caf? bordering the campo, the medieval town square, with ice-cream sellers looking on unamused.
The return of winter finally forced Andy out of his much loved tent and into the warmth of a hotel. I think it was my teeth chattering that clinched it!
The following still chilly morning, fortified by hot showers and even hotter coffee we set off to return to Florence through the more gentle countryside northwest of Siena. Our route led us between walled hilltop villages perched along the length of the skyline before us. The medieval Manhattan skyline of San Gimiagno beckoned us upward until, battered and buffeted by passing coaches, we arrived at its walls. From the top of one of the towers, which remain from the town's feud-driven heyday, we looked down on olive groves and vegetable gardens enclosed within the walls and the vines and fields spreading outwards.
Another day's riding through fields, woods and narrow village streets brought us to Florence again and its unpredictable, buzzing scooters in the traffic-choked streets. In the train station our problems started. It turned out to be even harder to find a train to Bologna on which we could stow our bikes than it had been to work out how to get the bikes from London to Stansted, something I hadn't believed possible.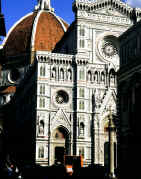 We finally arrived in a dark, cold Bologna at 10pm. We felt uncomfortable and looked incongruous in our cycling gear amongst the suits and heels adorning the soul-less 4 star hotel, the only place we could find with rooms available. Frustratingly it cost more than the rest of the week's accommodation combined.
Bologna however revealed its Sunday charm the next day, our last. We wandered beneath the arcades lining its central streets, watched the churches disgorging their congregations into caf? and squares and admired the bicycles claiming the streets of this university city.
Planes, trains and bikes - it's not always a stress-free combination but in between the hair-tearing moments it does offer the chance for some great freewheeling travel and moving memories. And don't forget to bring back some biscuits!
<< Go back to part 1