"Do you take bikes?" (part 1 of 2)
(Mary Chapman on a week cycling in Tuscany)
"And do you take bikes?" It seemed a good question on which to have based a holiday while freewheeling down a cypress-framed Tuscan road with Florence spread out below me.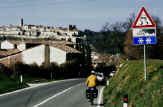 To my surprise a large number of airlines were happy to take bicycles, which led to Andy's and mine being cushioned in foam and bubble-wrap for the flight to Bologna. Once arrived it was a simple question of refitting the pedals, turning the handlebars forward and inflating the tyres in the airport arrival hall. All the time surrounded by panniers, spanners, plastic bags and a ring of curious onlookers. Then we cycled out into the warm March sunshine, through the cobbles, arcades and confusing traffic signs of the city and towards the hills beyond.
We were laden with a tent, sleeping bags, a cooking stove and a plan to camp wherever we could. At least that was Andy's plan - I was conducting a persistent, but I hoped effective, campaign for hot showers, clean sheets, rooms with views and lots of Italian biscuits.
Two days, a twice-broken chain and numerous route-finding mistakes later we finally saw the congestion of terracotta roofs, towers and domes of Florence hazily lazing in the sunshine. Descending through a lush spring landscape of blossoming trees and dusky olives we came first to the Roman ruins and villas of Fiesole. All this before emerging from between high stone walls, cracks thick with aromatic rosemary, into the bustle of the city.
The first thing we did was pitch the tent in the grounds of the marbled villa that houses Florence's youth hostel. Having spent the previous night perched on a ridge top with only pine trees, rabbits and some amaretto biscuits for company, the luxury of a shower was soon indulged in. I was now busy re-assessing my campaign tactics.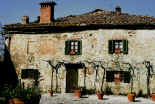 Later we sat in the Boboli Gardens, content from our first Tuscan meal in a chanced-upon restaurant where conversations filled the gaps between the tables as regulars were brought their usual lunch. We devoured minestrone thick with barley and vegetables followed by roasted artichoke and crunchy fennel, amazed at their taste and freshness.
Our wonder at food's flavour and texture remained for the length of the trip. Whether buying asparagus and tomatoes from a farmer's lorry or huge squares of salty focaccia and bags of olives from a dark crowded grocery, we continued to marvel and feast.

From Florence it was south to Siena, following the tortured roads that wind their way through the crests and folds of Chianti. To our east the heights of the Apennines were snow-covered. Overnight the warm winds of the previous days had swung around to the north and the temperature had plummeted. Snowflakes spiralled thinly down between the steep, thickly wooded slopes as we were blown south through the confusion of spidery roads on our map.
>> Continue with part 2