This opinion article was first published on CLUAS in February 2005
CLUAS Opinion
Michael Jackson: demon or demonised? Or both?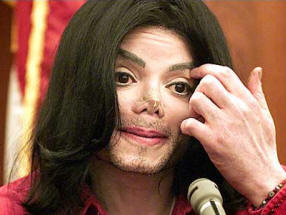 As Michael Jackson's court case gets underway Aidan Curran reflects on the fact that - whether he is found innocent or guilty - his fall from grace is a personal tragedy on an enormous scale.
---
So the sorry case of Michael Jackson surfaces again in our news. At the time of writing he stands accused of an appalling crime, one that our society rightly regards as indefensible and sickening. Jackson is, of course, innocent until proven guilty. However, short of inventing a cure for cancer, AIDS and the common cold in one pill, nothing that he could do will ever redeem his reputation now, even if he is found innocent.

It takes a great leap of the imagination to think of Jackson today as a musician, an entertainer rather than an entertainment in himself. With miserable irony, he who had such interest in the life and remains of John Merrick has now become the Elephant Man of our age, a grotesque freakshow of never-ending tabloid amusement and mock-horror. Bubbles, Neverland, Lisa-Marie Presley - the whole saga has been chronicled by every greasy gossip mag and haughty Sunday supplement.

Yet for those who were pre-teens in the early 1980s, Michael Jackson was at that time the most exciting musical act on the planet. The singles from his first two solo albums still sound fantastic. "Don't Stop 'Til You Get Enough' fizzes with Saturday night electricity, and 'Billie Jean' is brilliant, full stop. Even his duet with the archduke of Eighties crapness, Paul McCartney, on 'Say Say Say' sounds not-bad and Jackson got the publishing rights to the entire Beatles back catalogue in the bargain. You thought you were cool because you owned a few Beatles records: in the 1980s Jackson owned The Beatles.

We wanted to dance like him; the moonwalk seemed like an awesome magic trick that we could never figure out. We wanted to dress like him; short trouser legs over white socks looked better on him than on us, however. As with all proper pop stars, we wanted to be him.

Then in 1987 the world saw the cover of Jackson's long-awaited new record 'Bad', and things were never the same again. The handsome and charming Jackson of 'Thriller' had hacked and chiselled his face into a harsh metallic scowl, a sick parody of cosmetic surgery. And now Jackson was - unquestionably, unavoidably, uncomfortably for some - a white man. The pioneer and champion of black music on the fledgling MTV had literally changed face and now apparently believed that skin colour mattered, in his mind at least. Explanations of dermatological illness were believed by nobody. The subsequent single 'Black And White', however well-intentioned it may have been on Jackson's part, was widely seen as brazen hypocrisy on the part of someone who had, in the eyes of many, capitulated to the unspoken race code of the entertainment industry.

The most famous person on the planet was publicly breaking down under the weight of his own insecurities, and we couldn't get enough of it. We feasted on the stories of his eccentricities and whims, we desserted on ridicule and childish jokes, we picked our teeth with the debris of his dignity.

Then came the grave accusations of child molestation against Jackson, and the jokes began to ring hollow. Jackson is charged with the abuse of impressionable children - children who may once have wanted to be like him.

When he himself was a boy, Jackson was regarded as the new James Brown, and the comparison illustrates the tragedy of Jackson's life. Brown too has made a show of himself at times, with a litany of drug abuse, high-speed police chases and various other misdemeanours culminating in a spell in prison. Yet anyone who has seen Brown on stage recently has had the good fortune to witness a genuine legend, an electrifying performer who works hard, loves his music, enjoys playing intimate venues and seems relatively happy in life. Jackson, on the other hand, seems set on personifying a humourless Christ-like figure of redemption through public suffering as demonstrated in the sickening 'Earth Song', so gloriously undermined by Jarvis Cocker's stage-crashing in London in 1995.

It's hard to imagine Michael Jackson ever playing a proper concert again, ever singing 'Billie Jean' or moonwalking again, and it's the world's loss. Perhaps only Las Vegas, home to overweight curiosities like his former father-in-law, would have him now. If Jackson loves music even half as much as James Brown so clearly still loves music, if he hasn't completely given himself over to the sorry sewage of his last 20 years of musical output, if he has listened to Justin Timberlake's fantastic singles and heard his own influence upon them, then it must hurt him too. What does Michael Jackson think about in his quiet moments?

It's insignificant in comparison to the suffering he allegedly inflicted on others, but even if found innocent Jackson is already serving a life sentence. In all likelihood, not even Michael Jackson would want to be Michael Jackson now.

Aidan Curran



Check out the discussion this article provoked on the CLUAS discussion board.