Cluas Gigs of the Fortnight
The best gigs across Ireland during the period 29 August to 11 September 2005

Check out the previous 'gigs of the fortnight' (which covers the period 15 August 2005 - 28 August 2005 inclusive)
Gig of the fortnight is........ The Electric Picnic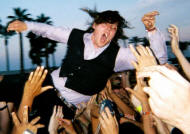 Where and When?


Stradbally Hall, Co. Laois - 3rd & 4th September

Why? The Electric Picnic is now in it's second year and with Kraftwerk, Doves, DJ Format, The Flaming Lips and a host of other great acts playing over the course of two days what's not to like about it?

Well there's the fact that James Blunt is on the bill but with any luck a bunch of hippies will show up, confuse Laois with Glastonbury and sacrifice Blunt to their dark lord. Or maybe I'm confusing hippies with Norwegian death-metal fans. It's not really all that important.

But there is one band playing whose performance will unquestionably be the most eagerly awaited of weekend. After two previous European tours The Arcade Fire will finally make their Irish debut and it promises to be a treat. Having seen them play in London back in May I can confidently say that possibly the only thing to top the brilliance of the Montreal based band's debut album "Funeral" is the magnificence of their live show.

A word of warning for those at the front though. Houston born frontman Win Butler is appropriately Texas sized and, as you can see, he likes a bit of an auld stagedive.

Best of the Rest
Who? The Magic Numbers

Where and When?


Limelight, Belfast - 4th September


Ambassador, Dublin - 5th September

What do you get when you put two brothers and sisters in a band?

A really smart bout of self-righteousness and some great publicity.

The Magic Numbers' failure to appear on Top Of The Pops earlier this month probably garnered them more media attention than playing on the ailing BBC institution would have and with a Mercury Music Prize nomination under their belts things are looking pretty bright for Trinidad's most famous export since Dwight Yorke.

After a very well received Oxegen performance in a jam-packed new bands tent they return for a couple of their own headlining dates.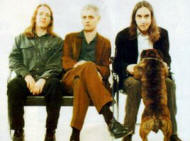 Who? Dinosaur Jr.

Where and When?


Ambassador, Dublin - 30th August

Everyone cites The Pixies as a massive influence on Nirvana. And justifiably so as even Kurt Cobain feared that 'Nevermind' would be dismissed by critics as a cheap Pixies knock off. But equally important in shaping 'the sound that saved music' was Dinosaur Jr.. Formed in 1983 the Amherst MA band brought a sense of melody to US indie rock that had been somewhat lacking beforehand.

Now fully reunited for the first time since Lou Barlow left the group in 1989 Dinosaur Jr. are on the reunion trail that's already been blazed here in recent months by other seminal 80's bands like Slint and of course The Pixies.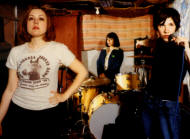 Who? Sleater Kinney

Where and When?


TBMC, Dublin - 30th August

Oh what a horrible dilemma for Dublin music fans have to face on August 30th. Choose between the above mentioned Dinosaur Jr. or Sleater Kinney.

It rains a lot in Washington State. And thank God for the U.S. Pacific Northwest's crappy climate as the weather there has meant that the area's youth has had to spend a great deal of time indoors. In the absence of anything else to do many of them have picked up a guitar and made some brilliant music.

However up until the early 90s if you were to chart the history of Washington's music from Jimi Hendrix through to grunge you'd find it to be very male dominated. Then in 1992 along came Sleater Kinney. One of the original riot grrl bands and certainly the most successful one to emerge from that movement Sleater Kinney started out away from the Seattle scene, which was on the verge of consuming itself as A&R men from major labels descended on the city in search of the next Nirvana, in the state capital of Olympia and over the course of the last decade have released 7 albums.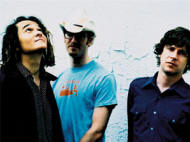 Who? Nada Surf

Where and When?


The Village, Dublin - 6th September

Make a list of bands that have been screwed over by record companies. Is Nada Surf on your list? Because they should be.

After the New York band released their debut 'High/Low' in 1996 their label declined to release the follow up 'The Proximity Effect' and they were dropped when they refused to re-record it. The record was released in Europe however to much acclaim from fans and critics alike and it did eventually see the light of day stateside in 1998. 4 years later they returned with their most acclaimed album to date in 'Let Go' (though personally I'm more of a Proximity Effect man) and they released 'The weight is a gift' earlier this year.

This will be Nada Surf's first Irish gig since they played Whelan's a couple of years ago.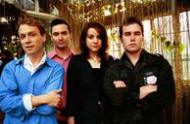 Who? Stars

Where and When?


Sugar Club, Dublin - 10th September

It's a fallacy to say that Canadian music is big right now. The country is far too big to tar with one brush (I'd love to hear of a decent band from Saskatchewan) but at present Montreal (remember the name Wolf Parade folks, that's all I'm saying) and Toronto seem to be major musical hot-beds.

Stars straddle the scenes of both cities as they formed in the latter before relocating to the former. Despite that move they remain tied to Toronto as they are signed to the Arts & Crafts label and two of its members contribute to the Broken Social Scene collective (whose follow up to 2003's wonderful 'You Forgot It In People' is due later in the year/as soon as you can download the leaked version of it from the net).

Their third album, 'Set Yourself On Fire', was recently released on this side of the Atlantic and has been very well reviewed.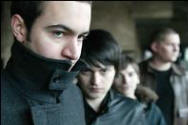 Who? Editors

Where and When?


Cyprus Avenue, Cork - 6th September


Dolan's Warehouse, Limerick - 7th September


Whelan's, Dublin - 8th September


Nerve Centre, Derry - 9th September


Limelight, Belfast - 10th September

Are they ripping off Joy Division or have they turned to the more recent Interpol for inspiration?

Who knows?

Who cares?

One thing is for certain though. When Editors (note: no 'The') made their Irish debut supporting The Departure (note: There is a 'The') during the Bud Rising festival earlier in the year a significant percentage of the crowd was there to see the Birmingham band.

It's rare to see a new British band play such an extensive series of Irish dates and it's a welcome sight. Despite the numerous opportunities to see them however Editors is one of September's hottest tickets.

Support for the Dublin date is the wonderful Ch-1.


CLUAS 'Gigs of the Fortnight' is compiled and edited by the CLUAS listings editor, Ian Wright.