Cluas Gigs of the fortnight
For the period 8-21 November 2004

Check out the previous 'gigs of the fortnight' (which covers the period 25 October - 7 November 2004 inclusive)
Gig of the fortnight: The Killers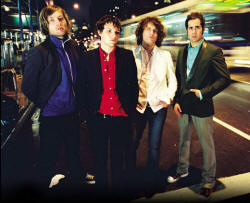 Where and When? Olympia, Dublin - 11th November

Why? Oh dear, it appears that a certain sportswear chain store has picked The Killers' contender for the single of 2004 in their latest ad campaign, prepare yourselves to soon be sick to the back teeth of Mr. Brightside.

Nonetheless, the anglophile Las Vegas outfit are more than a one trick pony and with 'Hot Fuss' have released one of 2004's better albums. And as anyone who saw them at Oxegen in the summer can attest they've got the live chops to ensure a great night for those in attendance.
Best of the Rest
Who? The Dudley Corporation

Where and When?


Crawdaddy, Dublin - 17th November


Roisin Dubh, Galway - 20th November

Not quite 'big in Japan' but more 'heard of in the land of the rising sun', it's an exciting time for the Dudley Corporation as they recently announced that their second album 'In love with' will get a US release in the new year. Q (the magazine, not the musician) said of the corpo that they might not be far off from something very special, at this point they could well be there.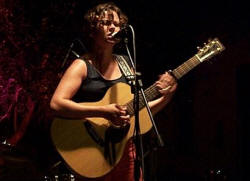 Who? Polly Paulusma

Where and When?


Whelan's - 17th November

Melodic folk with sweet, breathy vocals layered over a guitar and piano combination, according to Rolling Stone she "proves once again that a well-penned ballad trumps an over-produced pop song any day."

Who? Go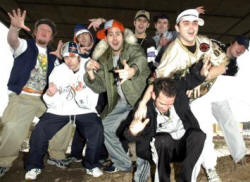 ldie Lookin" Chain

Where and When?


The Village, Dublin -11th November


Spring and Airbrake, Belfast - 12th November

The Darkness proved that by aiming at the twin targets of people with the irony meter jacked up to 11 and the educationally subnormal you can become stars. Enter Welsh hip-hop outfit G.L.C.. Genius or idiocy? Cluas leaves it up to you to decide...

Who? The Polyphonic Spree

Where and When?


Ambassador Theatre, Dublin 8th November

The world's happiest band/acid casualties/musical cult visit Dublin in November. If you go to this please brush your teeth beforehand as you'll spend significant amounts of time at the gig smiling.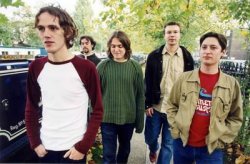 Who? Gomez

Where and When?


Ambassador Theatre, Dublin - 19th Nov


Nerve Centre, Derry - 20th November


Limelight, Belfast - 21st November

Since 1998's Mercury Award winning 'Bring It On' Gomez may have been flirting dangerously with the 'Where are they now?' file but they've spent the last few years busily plugging away slightly under the radar and have built a reputation for being a very good live act.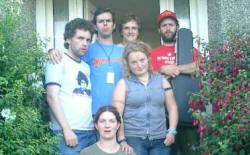 Who? Fred

Where and When?


Club One, Cork - 10th November


The Barge Rooms, Ennis - 12th November

Ireland's quirkiest band release their new single 'October' in November. Support comes from Niall Connolly and the Marshall Stars.

Also on the road:
Autamata
-> Cypress Avenue, Cork - 13th November
Radio 4
-> Temple Bar Music Centre - 15th Nov
-> Bloc Party: Whelan's - 15th Nov
Declan O' Rourke
-> Roisin Dubh, Galway - 12th November
-> The Granary, Killarney - 14th November
-> Half Moon, Cork - 17th November
-> Cleere"s, Kilkenny - 18th November
-> Connolly's Of Leap, Co Cork - 19th November
-> Dolan's, Limerick - 20th November
-> Spirit Store, Dundalk - 21st November

CLUAS 'Gigs of the Fortnight' is edited by the CLUAS listings editor, Ian Wright.