Submitting an article to CLUAS for publication
All the instructions you need to know are below...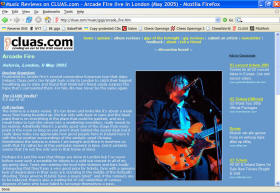 Well if you want to see your name appear in digital glory at the end of a CLUAS article then you're in the right place. Yeah, this is the section of CLUAS.com from where submissions MUST be sent.

Before submitting an article however we strongly advise you to familiarise yourself with the (excellent) writing guidelines put together by CLUAS writer Aidan Curran. The advice provided in these clear guidelines, if followed, will ensure your article is well-written and will engage the fussiest of readers. In short - take a bit of time to ensure your article adheres to these good writing guidelines.

When you are confident that your article is good enough you can submit it by jumping to one of the following pages:

Submit a gig review via this page.


Submit an album review via this page.


Submit an interview or feature article via this page (coming soon).
Our goal is that you will have feedback on your submission from the appropriate sub-editor within a week of submitting your article. We also aim that, assuming your submission is good enough for publication, it will be live on the site within 10 days of submission.