Film Review: 'Irreversible'
Memento ?la Daft Punk? Yes. And no.
This writer saw lots of French films recently at the 2002 Cine France festival in Dublin. Some were terrific and some really troubling but all bore that French trait of heavy philosophising and a relentless exploration of the human being's darker depths. Gaspar No's 'Irreversible' and La Vie Nouvelle, directed by Phillipe Grandieux, were the stand outs if only for their absolute pulverising of the audience's emotions.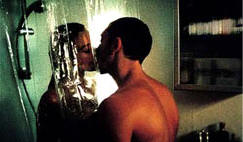 When No's film was shown at Cannes 2002 a good portion of the audience walked while the press screening ended in the applause being drowned out by booing and hissing. It's with reason that he's been labelled the enfant terrible of French cinema. There are no half measures with No?but his confrontationalism can be overdone. There is questionable need for example for the rape scene in 'Irreversible' to run to nine minutes and the drawn out savagery of the revenge exacted for this crime is equally gratuitous in the force it exerts on audience minds. No's characters are hardly justified as we reach the film's tender ending but that's probably not the director's intention.
Starring young French talents Vincent Cassel, Monica Bellucci and Albert Dupontel, 'Irreversible' is director Gaspar Noe's much anticipated follow-up to his 1998 Cannes award winner 'I Stand Alone'. Likened to David Cronenberg's similarly shocking Crash, the film was described by one usually accurate US critic as a "repulsive masturbatory exercise whose only achievement is its heroic ratio of style over story".
While audience revulsion and outrage is guaranteed, 'Irreversible' manages to provoke these feelings on a painfully thin storyline. The marks of Noe's style here are his swirling, pulsating camerawork, alongside two other high concept ideas: the story is told anachronistically, ?la Memento (the ending coming first), and each scene is shot in one very long take. The former conceit made more sense in the infinitely superior Memento, while the latter is irrelevant to the narrative.
The film begins with Marcus (Vincent Cassel) being taken away in a stretcher from Rectum, an underground gay S&M club. A swirling, throbbing transition in shaky camera and Francis Bacon style psychological visuals takes us back in time to the club's cavernous interiors where we see Marcus getting his arm broken after frantically searching for Le Tenia (Jo Prestia). La Tenia's brutal deed and its victim then become the film's central mysteries, solved over a series of extended takes.
Thomas Bangalter's soundtrack to the film, sounding like an extra-throbbing horror film score, is essential to the paranoia and claustrophobia the film thrives on. Half of French duo Daft Punk, Bangalter's title track opens with that slasher flick standard: two kickdrum beats, then a single, echoed snare beat. Bangalter's masterful soundtrack accordingly burns and eases each take on to the viewer's mind. Thus the swirling air-raid siren that drowns in and out on the warped instrumental 'Rectum', and the drab bass thud and ominous organ chords of 'Stress'. Electric fuzz and hi-hat, thumping bass and ceaseless ringing are as necessary to the incredible emotional impact of the film, making this as much a multi-media creation as one is likely to encounter in modern cinema. The distorted vocals on the house-driven 'Into the Tunnel' preludes the rape scene still poorly prepare the viewer for what's about to happen. Having watched the film, I dug out the soundtrack album all the better to understand its effect. Incredibly, I learned, Bangalter created the effects on some tracks by regularly submerging the sound 20 feet below water, allowing it to resurface and created that claustrophobic atmosphere so central to the film.
'Irreversible' is a treatise by No?on Man's vengeful and impulsive nature. However, in this film, we see the effect first, then the cause, until we witness the fateful, reckless decision that triggers the whole tragic chain of events we've witnessed. No?doesn't make it very easy for us either. The central characters who exact the revenge on the crime's perpetrator are less to be pitied than scorned for their indirect contribution to the crime and for the ugly characteristics they portray in their search for revenge. There are no heroes here. 'Irreversible' perhaps exists solely to be controversial and if so No?has achieved his goal, but at a high price for future expectations of this French innovator.
Mark Godfrey

Check out a review of La Vie Nouvelle or The Man on the Train, some other highlights of the 2002 Cine France festival.