Film Review: The Man On the Train (L'homme du Train)
Johnny Halliday tries his hand at the big screen. And delivers.
Patrice Leconte has been acclaimed as one of Europe's great cinema stylists. L'homme du train is a character study about two very different men thrown together by chance who proceed to appropriate aspects of each others personalities and lifestyles.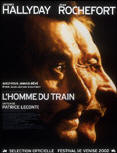 We're treated to a disciplined, excellent performance by the god father of French rock, a Springsteen-looking Johnny Halliday. Halliday plays Milan, a criminal going rusty who's arrived in a small town to plot a last-stand bank robbery. He hooks up with an eccentric old school teacher, Monsieur Manesquier, who allows him stay in his rambling old mansion. What evolves is a touching human story as two unlikely characters observe in each other what they wish they could have for themselves. Thus tweed-coated Manesquier role plays his cowboy dreams wearing Milan's tassled leather jacket. And so it continues, landing us in many acutely observed comical situations, a crescendo of which sees Manesquier taking shooting lessons from his guest and challenging some local toughs in the local caf?bar. Manesquier realises he's led a pretty ordinary, regulated life and almost appears to want to steal or borrow some of Milan's recklessness. He wants to live dangerously, be that cowboy he's worshipped in a thousand westerns, rob the bank and ride off into the sunset a romantic outlaw. Milan on the other hand knows he's getting over the hill in his profession and seeks some of the regulated ordinariness of Manesquier's life.

The two men are destined to their separate melancholic fates and there's more melancholy than redemption by the film's end. Halliday produces a terrific performance, absolution perhaps for some of his lesser musical creations. His performance is ably complemented by virtuoso Jean Rochefort whose features will be familiar from his recent lead turn in Lost in La Mancha. Rochefort's lined and lived-in features fill the screen in some wonderful sequences that chart the old man's last ditch attempt to go out all guns blazing. Leconte allows the perfect amount of comedy and pathos to mix in the Manequier character, portraying an old man's regrets and fantasies without allowing us feel sorry for Manesquier.

L'Homme du Train is an enjoyable and expertly modulated study of an unlikely friendship, bringing together two of France's best known performers for extra viewing value. Deftly and softly told, the film concludes with melancholy and relief, toying with questions of the soul and the ultimate triumph of friendship and human over world weariness.
Mark Godfrey

Check out a review of La Vie Nouvelle, another highlight of the 2002 Cine France festival.