A Year in Australia (part 1 of 3)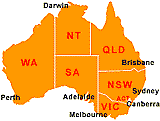 It was only with a vague plan to work and travel around the country for a few months that I arrived in Australia. I had no particular expectations. To travel in America had in fact been my first choice. But having failed to get a US lottery visa I applied for one of the Australian, year-long working holiday visas which are granted relatively fuss-free to under-26s. Looking back, my initial ambivalence towards Australia seems odd, as the year I spent there turned out to be one of the best of my life!
Whilst its cities are fab, it is the outdoor life that makes Australia quintessentially Australian. The landscape is so vast and so diverse that a year is not enough to see it all.

Sport is huge in Australia and this should have been a problem because I hate sport. Sport, however, is sneaky. Not just sneaky, but pushy too. One moment you're taking a swim, the next you indulge in a spot of body boarding and before you know it Sport has you gazing longingly at second hand surf-boards and then twists your arm into buying at least a half-decent wetsuit. Even soft city kids, like us, found ourselves scuba-diving, sand-boarding and white-water rafting.
Its only after leaving the cities that the possibilities of this amazing continent really become apparent. Having said that, if I was forever condemned to city life, than Sydney is the place to be.

Sydney was where we started off and, being practically broke on our arrival, we looked for work immediately. I was offered a full-time receptionist position which paid reasonably well. My flat-mate and best pal Anthony worked as a sound engineer for a horrible greasy little man whom nevertheless paid incredibly well. We bought a car for the silly sum of £350 and, with jobs secured, we set about flat hunting and ended up landing possibly the nicest flat in the world. It was just five minutes walk from Bondi Beach it had wall-to-wall pine floors, huge windows and a long balcony which looked down to the beach. I was absolutely in love with our Bondi pad. The pride and joy however was the purple, crushed-velvet, sofa which we bought in a charity shop for arrived in Australia with only the vaguest 30. We adorned the living room with flowers and art prints and both felt terribly smug and just a little clever.
Sydney is a dazzling city. Except for the beach, it's like London, with lovely weather and the friendliest people. It has an 'anything goes' attitude which is very refreshing. Christmas Day we spent on Bondi Beach where they have an outdoor rave all day. Dancing in the sunshine, wearing a bikini and santa hat while drinking beer felt sooo hedonistic - it was grand - and whenever you over-heat, a quick plunge into the sea sorts you out. Being too busy dancin' to bother with the mundanity of food, Christmas dinner consisted of half a Twix.
One problem with Sydney is that it?s amazingly difficult to leave. My advice to anybody going to Australia for a year would be to visit Sydney last. There is a wealth of things to do there, all of which involve parting with your hard-earned dollars. On the other hand, I can think of worse ways to spend a year then basking in the sunshine in Bondi.
>> Continue with part 2