U2 - A Joshua Tree Tour Set List- a setlist
King's Hall, Belfast, June 24, 1987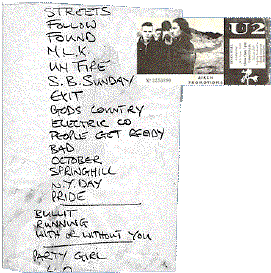 This was it. 1987 and the big mainstream canary was finally carrying them firmly in her golden gob. The Joshua Tree tour grew and grew and grew - a football stadium here, an airfield there and once in a while the odd muddy field thrown in for a bit of organic credibility. Yip, the boys had hit pay dirt and no amount of carbolic soap could hide the fact.
The honour of the smallest show U2 played while on the road that year went to Belfast. There 8,000 of us sweated it out deliriously in the King's Hall. We were in awesome company - the support act diversion (in perfect testimony to the bizarre inversion of stature that hallmarked this tour) was provided by a legend of uncontestable standing, Lou Reed. Under normal circumstances he could have expected to hold the venue to ransom himself. But this was 1987 and Lou knew who that year belonged to.
This was U2's second show ever in Belfast. Their first outing 5 years previously in 1982 was distinguished by one of the first live performances of "Sunday Bloody Sunday". At the time a nervous Bono introduced it to his Northern Irish congregation, as a new song that they vowed they would never play again if the audience didn't like it that night. The roof promptly proceeded to fall in and in the following years they went on to rattle audiences all over this little planet with it.
Well, 5 years later their set didn't begin as the list here suggests. John Lennon's version of "Stand by me" started playing over the PA. Every verse and chorus was carried by the 8,000 voices in attendance and then, half way through, U2 strolled on, unannounced, picked up their instruments and finished the song with a verve and bite that set a euphoric tone that was sustained right through to the final refrains of '40'.
The song "Springhill" listed above refers to their interpretation Peggy Seeger's "Springhill Mining disaster". They skipped over it tonight. However, they first performed it earlier in 1987 on RTE's "Late Late Show" during a special tribute to Luke Kelly of the Dubliners. Anybody who was lucky enough to be in front of their telly that evening will remember the blood and beauty of what is probably U2's most beautiful unreleased musical moment.